EFB pellet machine
EFB refers to Empty fruit bunch. It is also called palm fiber and palm silk. It is the by-products of palm oil mill. To extract 1kg of palm oil, there are 4kg palm biomass left, including EFBs, oil palm trunk and fronds.
EFB is abundant in Malaysia, Serbia, Indonesia, and other Southeast Asia areas, where palm trees are widely planted as a cash crop.
EFBs are large in size. It contains cellulose and hemicelluloses lignin. The composition elements are carbon, hydrogen, nitrogen, sulphur, oxygen, etc. the moisture content is around 65%.
High fiber and lignin content, high hardness and tenacity make EFB an excellent material for making pellets, but also make it difficult to pelletize.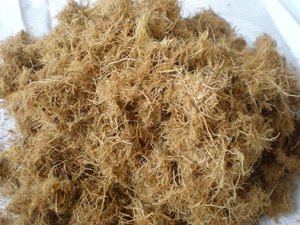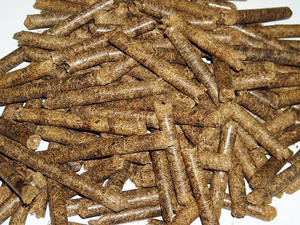 Traditionally, EFBs are burned to ashes and used as fertilizer in plantations. They are also thrown on the fields as mulch to improve the carbon sequestration of soil. Or they are filled in the pits to emit methane.
Traditional utilization of EFB biomass is not efficient. Nowadays, more and more EFBs are made into EFB pellet fuel and applied in biomass boilers and heating supply systems.
Advantages of EFB pellets
High heating efficiency: the EFB pellets can burn sufficiently in the boiler with only 5% ash residues. The calorific value is 4,200 – 4,900 kcal/kg, equivalent to sub-bituminous coal.
Low moisture content: EFB pellets contains 8-12% or less moisture, much less than EFB fibers (50-60%). Low moisture content can improve the combustion ratio and reduce the transportation cost.
Wide application: EFB pellets can be applied both in home and factory. You can use them in heating stove, cooking range and BBQ, or industrial boiler and power plant to take the place of coal.
Environmental friendly: efb pellets emit little smoke, noxious or particles gas in burning.
Convenient to use: As efb pellets are much more compact and denser than EFB fibers, they need smaller space and loading capacity, therefore less transportation cost.
No need for binders: EFB contains about 13-25% of lignin and 43-65% of cellulose. The lignin can play the role of binder in pelletizing.

Specifications of EFB pellets
Moisture content
< 12%
Ash content
5%
Volatile Material
75%
Carbon Content
13%
Length
< 30mm
diameter
6,8,10mm
Heat Energy
4000 kcal/kg
EFB pellets production process
If you decide to build a EFB pellet production plant, you should make it clear the composition parts and their functions. Learn about your target market and ensure continuous raw material supply. You'd better choose a place convenient for raw material transportation.
The process to make efb pellets is similar with other biomass pellets, including efb drying, crushing, pellet making, cooling, and packing.

EFB shredding
EFBs are usually large bulks, you need a shredder to cut them into smaller size so that they can be fed into the dryer.
EFB drying
The moisture content of EFB materials for making EFB pellets should be under 15%. Usually the EFB materials are too wet, so you need a dryer machine to lower the moisture content.
EFB crushing
Us a hammer mill to crush the shredded and dried EFBs into powders suitable for pelletizing and prevent them blocking the pellet machine.
EFB pelletizing
The crushed efb materials will be fed into pellet mill and pressed into high-density solid cylindrical pellets. As EFB is a crude fiber, you need pellet mills with high capacities.
EFB pellets cooling and packing
The newly extruded EFB pellets have high temperature. After cooled to room temperature, they can be packed into bags of large or small sizes according to the requirement.

EFB pellet making machine
High hardness and tenacity of EFB requires high-power pellet machines. Ring die pellet machine is usually the choice. But if you have limited budget, a large-scale flat die pellet mill can meet your demand. These series of EFB pellet making machines adopt roller turned structure, they are good at processing palm fibers and other hardwood materials.
Roller-turned pellet machine
Drive Model
MODEL
POWER
CAPACITY (kg/h)
WEIGHT (nw/gw)

Electric motor
ZLSP-R 200B
7.5kW
80-120
215/245
ZLSP-R 300B
22 kW
250-350
540/575
ZLSP-R 400B
30 kW
350-450
770/810
ZLSP-R 420B
37 kW
400-600
700/1100/1200
ZLSP-R 550B
55 kW
500-800
1770

Diesel engine
ZLSP-R 200A
15HP
80-120
320/350
ZLSP-R 300A
41 HP
250-350
850/890
ZLSP-R 400A
55 HP
350-450
1010/1050
When you feed EFB into the pellet mill, it is pressed by the friction between pellet mill roller and die. The lignin in the EFB will become soften and glutinous under high temperature. When they come out from the holes on pellet mill dies, the efb materials have been pressed together and become high-density pellets.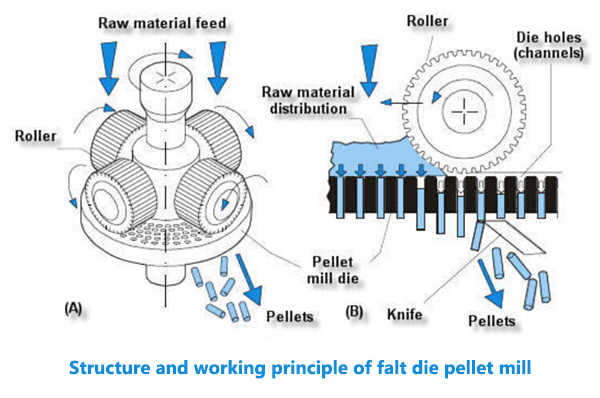 If you want to engage in EFB pellets production, to build a complete and automated EFB pellet production plant is necessary. EFB fibers are distinctive from other biomass materials, and the cost is relatively higher than common wood pellet plant. So you need to choose a reliable supplier who has rich experience in building biomass pellet plant.
TICO is one of China's earliest company engaged in biomass pelletizing. We can recommend you the most suitable dryer, crusher and pellet machine. We can work out customized solution according to your factory, floor area, landform and the function you need. We also provide patient pre-sale consultation and comprehensive after-sale service. Welcome to inquire us in the form below.
Get In touch Now!
We receive enquiries in English, Español (Spanish), Русский язык (Russian), Français (French) and العربية (Arabic). Our professional team will reply to you within one business day. Please feel free to contact us!