Gasoline pellet machine 150Q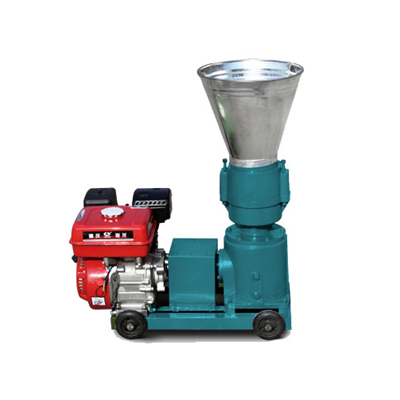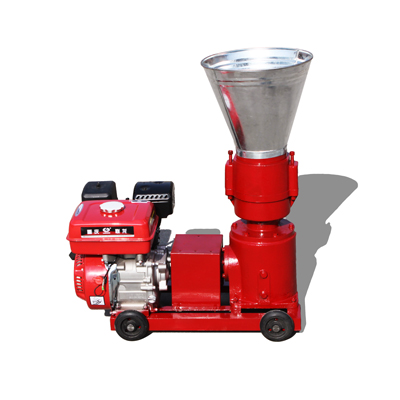 Gasoline engine pellet making machine is not as popular as electric motor type, but it's a suitable choice for people who have easier access to gasoline. TICO provide biomass pellet making machine with different drive engines to adapt to various demand. The pellet production is from 90 to 120kg per hour. And the gasoline engine turns up 13 horsepower.
TICO gasoline pellet making machine adopts rotating flat die and stationary roller as pelletizing system. They are made of heat-treated superior alloy steel, who have 3-4 times the lifespan of those in other pellet making machines. It features stable transmission, low noise, high bearing capacity and low temperature.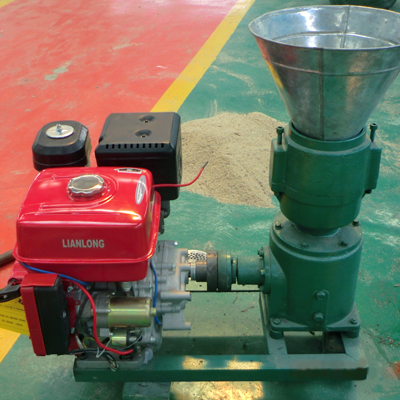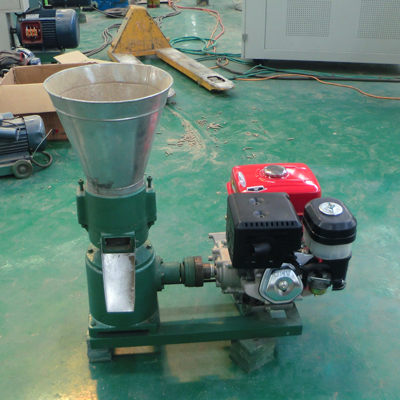 Further more, this pellet making machine is directly driven by gasoline engine through gear transmission, which has avoid the slippery of belt drive. All drive assemblies are contained in an gearbox filled with oil. The surface of gearbox has been nicely grinded, processed by carburizing and quenching treatment. Enhanced by stiffeners, the machine enclosure is able to sustain high pressure.

Specifications of gasoline pellet making machine
| Model number | Power (HP) | Output (kg/h) | N.W./G.W. (kg) | Package Size (mm) |
| --- | --- | --- | --- | --- |
| ZLMP-S 150Q | 10 | 90-120 | 180/220 | 1000*500*750 |
Application of gasoline engine pellet making machine
As a specialized biomass equipment, it applies to various biomass materials, including agriculture residues, household garbage, and factory waste. Besides, it is able to process those with low bonding ratio and difficult to compress. You don't have to add and binders to them. Moreover, it is capable of producing organic fertilizer and compounded fertilizer at low temperature.
These biomass pellets are environmental friendly fuel, which has small volume and high combustion ratio, with little carbon emission. Nowadays, they are widely applied in pellet stove for home heating and cooking, industrial boiler and power plant.

Right way to operate gasoline pellet making machine
Whenever you want to make biomass pellet with this machine, remember to warm it up with oil mixture( fully mixed 3-5kg raw materials and 10% oil) for around 5 minutes. The gasoline pellet making machine will work more smoothly if the temperature is up to 80-100℃.

Why choose TICO gasoline pellet making machine?
This series of gasoline engine pellet making machine adopts gasoline engine as power. Compared with other types, it is lighter in weight, and convenient to move. Besides, gasoline is easier to start in cold weather than diesel engine.
We have achieved the best compression ratio after a great many experiments. Therefore the machine can make full use of raw materials with little waste of resources.
All our pellet making machine has obtained CE and ISO9001 certifications. Please be assured to purchase and use.
Biomass production is a cost-effective business that worth investment. The high pellet production rate allows you to make profits with low cost.
The simple and humanized design makes it convenient to operate and maintain. It can work steadily for long period, with little noise or fault.
The gasoline pellet making machine is able to process a wide range of biomass materials. In light of the raw materials you're going to process, you can choose flat die with proper hole size and compression ratio.

roller and die in gasoline pellet making machine
Get In touch Now!
We receive enquiries in English, Español (Spanish), Русский язык (Russian), Français (French) and العربية (Arabic). Our professional team will reply to you within one business day. Please feel free to contact us!