Electric Pellet machine 200-400B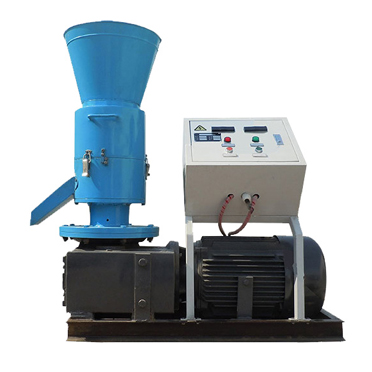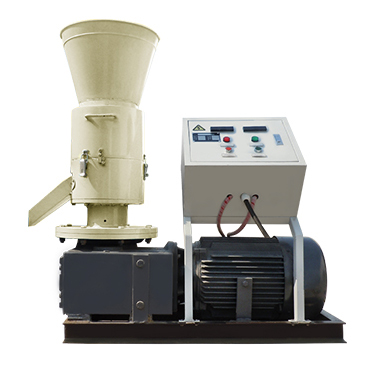 This flat die pellet machine is specially designed to make wood pellet fuels. It has achieved high forming rate and the best compression ratio based on a large number of experiments.
It can process many kinds of biomass materials, such as sawdust, wood shaving, rice husk, wheat bran, cotton straw, maize straw, peanut husk, EFB, grass, hay, alfalfa, waste paper and plastics. For different materials, you need flat dies with different hole size.

Wood pellet machines are used by people engaged in agriculture, forestry, lumbering, oil manufacturer and other relative industries. They are easy to get much biomass wastes but hard to deal with it. Burning them directly will cause air pollution. But when we make them into biomass pellets, they become environmental-friendly fuel. Wood pellet machine can help you deal with the waste and provide biomass fuel at low cost.
Biomass pellets can be used in pellet stoves for home heating and cooking. Also, they are applied in industrial boiler, power plant for industrial purpose. They are cheaper and cleaner than coals and oil. You can package them in bags for sale to make profits.

Specifications of Pellet machine 200-400B
| Type | Power (kw) | Output (kg/h) | Weight (kg) | Package Size (mm) |
| --- | --- | --- | --- | --- |
| ZLSP 200B | 7.5 | 80-120 | 215/245 | 950x450x1050 |
| ZLSP 300B | 22 | 250-350 | 540/575 | 1350x750x1400 |
| ZLSP 400B | 30 | 350-450 | 770/810 | 1400x800x1450 |

Structure of TICO biomass pellet machine
According to the different rotating parts, flat die pellet machine can be classified into 2 types. R-type means rotating roller and stationary die, while D-type means rotating die and stationary roller. R-type adopts more advanced structure and gearbox, so it has higher capacity and efficiency, suitable for customers with high requirement and budget.
Rotating-roller flat die pellet machine is composed of drive motor, gear box, flat die, roller, feed hopper, slicer, and outlet port.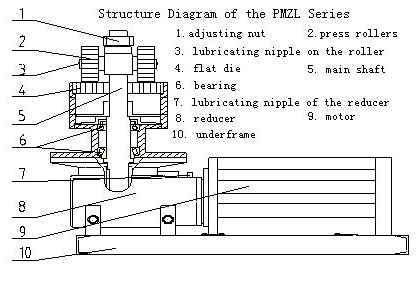 How does a wood pellet machine work?
The rotating roller is driven by electric motor through gear box and main shaft. When the roller rotates on the flat die, they generate high friction and temperature. The raw materials are fully cured and squeezed into holes on the flat die. After they are squeezed out from the holes, they become solid and smooth cylinders. There are knives cutting them into pellets and they fall out through the outlet.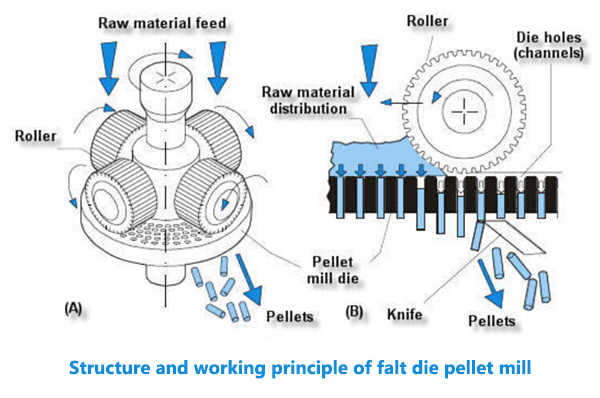 Superiorities of TICO wood pellet machine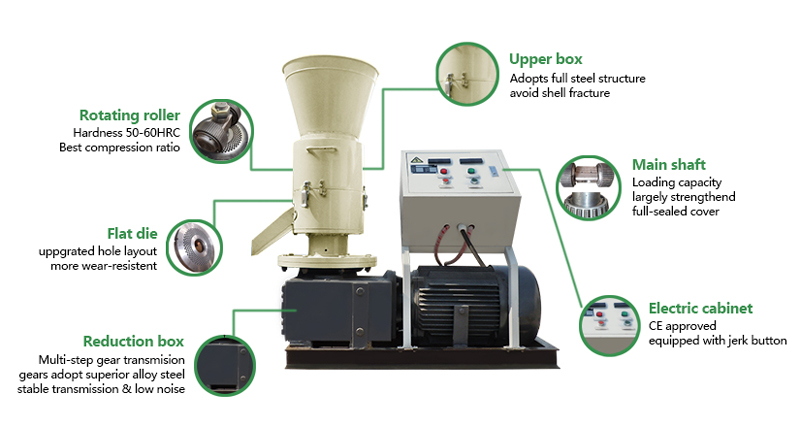 Wide adaptability to materials:TICO flat die pellet machine can process various biomass materials, from wood powder to hard wood chips. There is no need for any additives.
All bearing components in this pellet machine are fully sealed. This design prevents ash and moisture, form a stable environment, and prolong the service life of components.
The body is made of high-strength steel, enhanced with stiffeners. So it is resistant to wear and tear from outside. There is no chance of shell breakage.
All main inner components, including main shaft, roller axis and bearings are enlarged to increase the loading capacity by 1 times. Our pellet machine productivity is larger than our competitors' because we adopts large-size press roller.
Adopt gear transmission. Compared with belt transmission and worm and gear structure, it is more efficient and durable, and avoid the belt slippery and short life.
The gearbox is made of superior grey cast iron, which features low noise and excellent cushioning effect.
Adopts electric motor as drive system. It is equipped with an electric control system that conforms to CE standard. A scram button allows you to shut it down under urgency.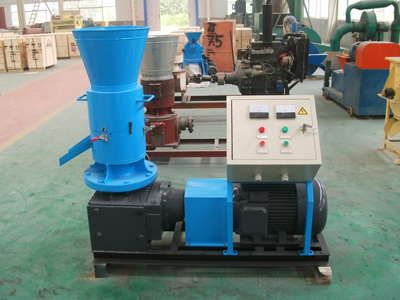 Get In touch Now!
We receive enquiries in English, Español (Spanish), Русский язык (Russian), Français (French) and العربية (Arabic). Our professional team will reply to you within one business day. Please feel free to contact us!