PTO pellet machine 150-300P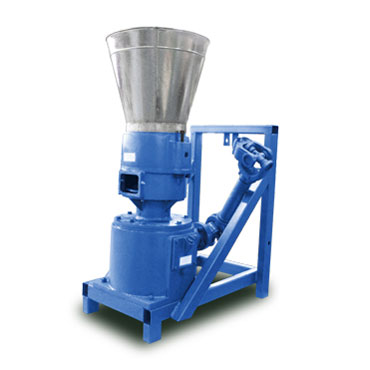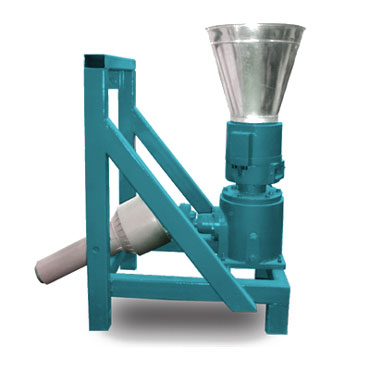 PTO pellet machine is not driven by electric motor or diesel engine, but extract power from a tractor. PTO refers to Power Take Off. PTO pellet machine is equipped with a PTO shaft used to connect with a tractor or other farm machinery. PTO pellet machine is popular with farmers and people who has a tractor or truck. It can exempt your cost of drive engine.
TICO is the first company in China that adopts PTO as the power of pellet machine. PTO can work conveniently outdoors, where electric power is not available. It is light in weight and small in volume, simple to install and operate, which is the best choice for making pellets outdoors. There are 200P,300P and 400P 3 types, whose production capacities are from 80-450kg per hour.
Specifications of PTO pellet machine
| Model | Capacity | Power (kg/h) | Weight (nw/gw) | Packing size (mm) |
| --- | --- | --- | --- | --- |
| ZLSP-D 150P | 50-100 | ≥8 HP | 90-110 | 900x540x1020 |
| ZLSP-D 200P | 80-120 | ≥15 HP | 130/150 | 1000x540x1020 |
| ZLSP-D 230P | 120-200 | ≥22 HP | 175/200 | 1000x540x1020 |
| ZLSP-D 260P | 160-250 | ≥33 HP | 235/255 | 1050x540x900 |
| ZLSP-D 300P | 250-400 | ≥41 HP | 305/325 | 1100x540x1000 |
What can PTO pellet machines do?
PTO pellet making machine is good at processing sawdust, wood scrapes, crop straw, wheat bran, rice husk, grass and hay. Compared with bulky biomass materilas, biomass pellets have higher combustion ratio and less pollutent emission, which have been advocated by governments. They are widely applied in home heating, power generation, and industrial boiler. Biomass energy production is a promising industry that worth investment.

Superiorities of PTO pellet making machine
Thank to scientific design and high quality components, it is able to make full use of raw materials and produce uniform and solid biomass pellets, with no damage to the final products.
The roller and die of PTO pellet machine are made of superior alloy steel. Processed by heat treatment, they are durable and highly wearable.
We provide flat die with different hole sizes. Our technicians will recommend you the most suitable one according to the raw materials you want to process.
PTO pellet machine can make full use of your tractor. It can work freely on farmland and other places where electricity is not available.
Compared with pellet machines driven by other engines, PTO type has lower price and power consumption.
With no drive engine, PTO pellet machine is much lighter and portable than other types. It is easily to be connected with a tractor or truck.
TICO is known as one of the leading pellet machine manufacturer and supplier in China. We have served thousands of customers all over the world. We are sure to satisfy your demand.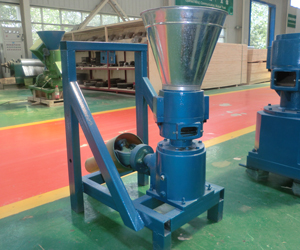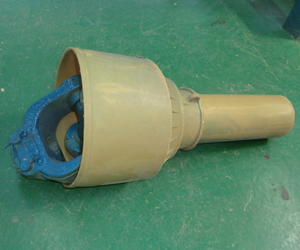 How to operate a PTO pellet machine?
Before the first time you start using pellet machine, you need to grind it with oil mixture, which is composed of 20% fine sand, 65% biomass material and 15% waste oil. The quantity should be 10% that of the pellet production per hour, and remember to stir them evenly.
When you have finished making pellets for the first time, remember to feed oil mixture to the pellet machine and operate for 3 times before shutting it off.
Before starting the machine, please add lubricant oil to specific parts according to the instruction book.
During operation, never put your hand into the hopper or touch the rotating parts.
For maintenance, you must cut off the power and let the pellet machine stop.
If you have any problems in using pellet machine, please feel free to send us enquiry, or contact with your sales representatives. We are pleased to answer any of your question.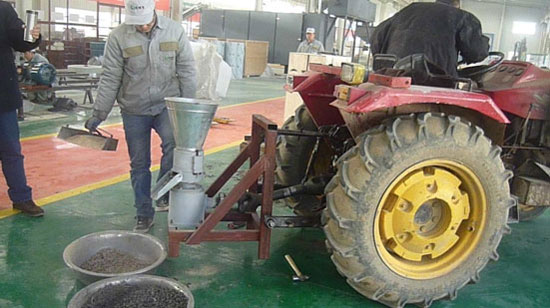 Get In touch Now!
We receive enquiries in English, Español (Spanish), Русский язык (Russian), Français (French) and العربية (Arabic). Our professional team will reply to you within one business day. Please feel free to contact us!