Integrated wood pellet plant 300-400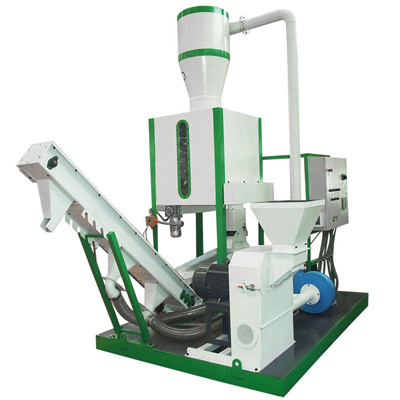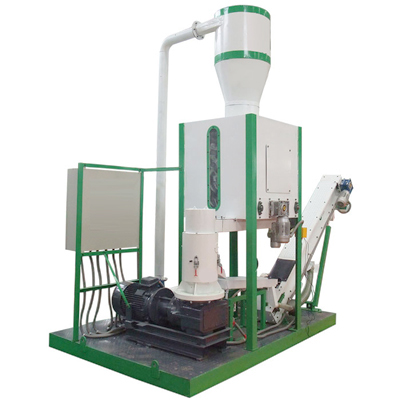 Multifunction integrated wood pellet plant combines our rich experience in biomass equipment and advanced technology. It integrates the functions of crushing, mixing, tempering, pelletizing and cooling, meeting customers' multiple demands for making biomass pellets. It covers all raw materials that pellet making machine can process. With concise and elegant appearance, it sells well among end users and pellet dealers.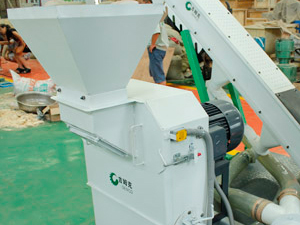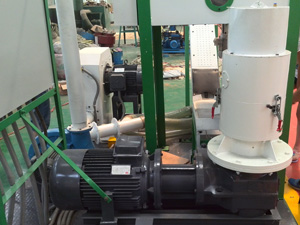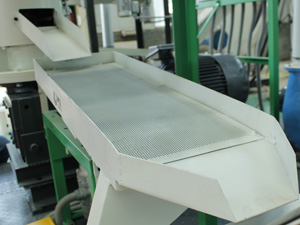 Multifunctional integrated wood pellet plant is composed of a pellet machine, a hammer mill with cyclone, a mixing feeder, a vibrating sieve, and a cooling conveyor. Meanwhile, it is equipped with a variable frequency regulator to take overall control of the process flow to ensure it is perfect and reasonable.

Specifications of integrated pellet plant
| Model | Capacity (kg/h) | Pellet Diameter (mm) | Power (kw) | Size (mm) |
| --- | --- | --- | --- | --- |
| MPL300 | 250-350 | 6-12 | 41.25 | 3500*1960*3500 |
| MPL400 | 350-450 | 6-12 | 49.25 | 3500*1960*3500 |
Process flow of multifunction pellet plant
In the first place, the hammer mill crush raw materials into suitable size. Then the screw conveyor feed them into hopper. After that, they get molded in the pellet making system. Next, pellet products are transmitted into the cooling and sieving machine. After that, they can be packaged and sold. The dust generated during the whole process is gathered in the dust collector.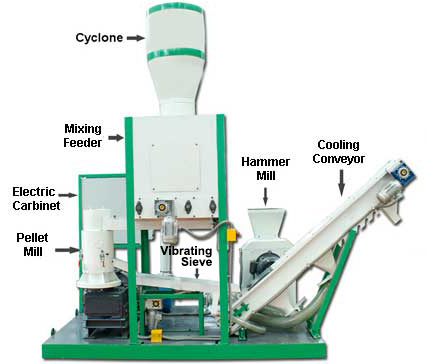 Raw material sources
Raw materials for making biomass pellets covers sawdust, branch, crop straw, rice husk, peanut shell, bagasse, bamboo residue, palm shell, and other products. The pellet diameter is from 6 to 12mm, density is 1.1-1.3t/m3, and water content is lower than 8%.


Requirements for raw materials
The diameter should be under 50mm. If your materials are larger than this standard, a hammer mill or wood pulverizer is needed.
The water content should be between 10% and 14%. You need to dampen it if the raw materials are too dry, and dry it if they contains too much moisture.
Biomass pellets applications
Biomass pellets have advantages of small volume, high combustion efficiency, and low pollutant emission. It is easy to store and transport, widely applied for home heating, pellet stove, industrial boiler, electric plant, etc. Owing to low cost and carbon emission, it is an ideal substitute for oil and gas.


Advantages of TICO multifunction integrated wood pellet plant
With compact structure, the multifunction integrated wood pellet plant takes up much smaller room than integrated wood pellet plant, whose overall dimension is 3720×2080×2080. It is convenient for move and transportation. You can load it into the truck of cart without dispatching it.
The PLC control system allows high automatic degree. It can relieve your reliance on labors so as to save cost. It is convenient to operate. Just push one button, all component parts can start and stop in right order.
The variable-speed feeder allows you to adjust the feeding speed to fit different materials, which ensure the stable performance
The screw feed conveyor integrated in the integrated wood pellet plant works stably. You can adjust the delivered quantity with a frequency converter, so that the feeding is enough, and there won't be too much materials in the hopper. This ensure the pellet making machine works under good condition.
To open and shut down the machine sets, you can turn on them manually one by one, or let them start automatically. If there is any accident during their automatic start, an alarm would warn you to take urgent measures.
The maximum height of this multifunction integrated wood pellet plant has been reduced distinctively thank to upgraded structure, which is more convenient for transportation.
Get In touch Now!
We receive enquiries in English, Español (Spanish), Русский язык (Russian), Français (French) and العربية (Arabic). Our professional team will reply to you within one business day. Please feel free to contact us!