Electric hammer mill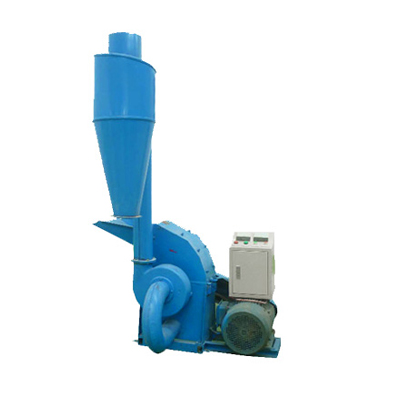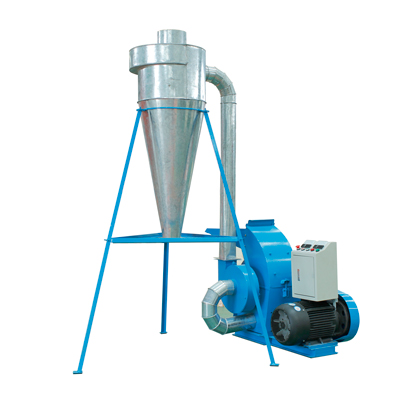 Electric hammer mill is used to crush biomass materials into sawdust whose diameters is 3-5mm, a suitable size for making pellets or briquettes. Electric hammer mill applies to straw, corn stalk, peanut shell, weed, tree branches and twigs, wood chips and other agriculture wastes.
Application of electric hammer mill
Electric hammer mill is also an ideal machinery for crushing cereals and other agriculture products, like dry and fresh sweet potato, corn, crop, wheat, bean, and crop husk. So it applies widely to poultry feeding, livestock farm, fodder producer, biomass pellet plant, and cooking oil processing plant.
TICO electric hammer mill can work individually or support the use of pellet making machine. You can use a hammer mill to crush biomass materials into powder, then use a pellet making machine to make it into cylindrical pellets. Crushed materials are easy to pelletizing, and represent higher combustion ratio. The size of end products ranges from 1mm to 30mm, and the length of raw materials is not restricted.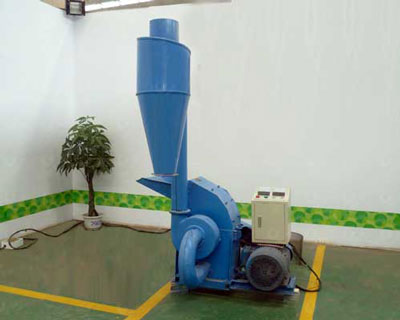 FSP420 Electric hammer mill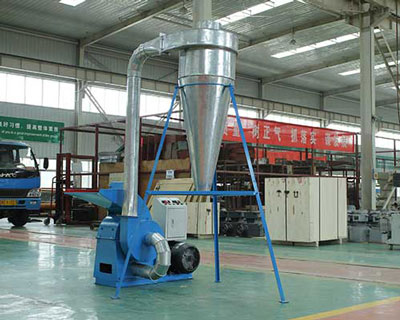 FSP500 Electric hammer mill

Specifications of electric hammer mill
The power type of the elctric hammer mill includes single phase and 3 phase, from 2.2kw – 37kw. Outputs range from 100kg/h to 2100kg/h. Among these types, FSP 500 is equipped with a cyclone, and the capacity is the largest.
You can choose the right type based on your demand or consult our sales representatives. The chart below shows specific parameters of electric motor hammer mill.
Model
Output Capacity (kg/h)
Power
Screen mesh (standard)
Hammer Quantity
Diamesion (mm)
Weight (kg)
FSP 158B
100-200
2.2KW Single phase
4
16
750*450*730
75/85
FSP 198B
240-400
3KW 3 phase
4
16
1000*750*1120
120/135
4KW 3 phase
FSP 420B
800-1000
7.5KW 3 phase
5
16
1200*1000*1220
250/270
11KW 3 phase
300/320
FSP500B -28
1000-1200
11KW 3 phase
5
16
2200*1000*1020
470/500
15KW 3 phase
500/530
FSP500B -40
1200-1700
22KW 3 phase
5
24
2200*1050*1020
710/755
30KW 3 phase
2200*1100*1270
800/835
FSP500B -60
1700-2100
37KW 3 phase
5
36
2300*1150*1350
1150/1230
Working principle of hammer mill
When raw materials are conveyed into the crushing chamber through the feed hopper, they get pulverized by the rapidly rotating hammer plates. After the materials are smashed, extruded and scraped by the hammer plate, truss plate and screen, they are expelled out by the centrifugal force of rotor and suction force of the fan. This process will be undertaken for multiple times until raw materials are small enough to pass through the screen mesh.
Advantages of Electric hammer mill FSP
This electric hammer mill can accomplish smashing and separating 2 functions. With all fine powder recycled, it effectively avoid dust pollution.
The hammer mill is equipped with a air flow regulating valve, with which you can adjust the fineness of wood powder without stopping the machine.
Equipped with a self-cooling system, it works under low temperature and achieves uniform size of pellet products.
The electric hammer mill FSP series adopts features compact structure, small size, low power consumption, high efficiency and low noise.
All components are sealed by metal cover, ensures stable performance and long working life. It is easy to install, disassemble and replace spare parts.
Warranty policy
We guarantee each of our products is qualified. The warranty time is 12 months since the release date. During the warranty period, we can replace the defective hammer mill for free. (customers have to bear the expense of freightage).
We reserve the right to require customers to send defective products to our workshop for inspection.
Get In touch Now!
We receive enquiries in English, Español (Spanish), Русский язык (Russian), Français (French) and العربية (Arabic). Our professional team will reply to you within one business day. Please feel free to contact us!