Electric pellet machine 150-300B
Electric pellet machine 150-300B is a small-size, mobile flat die pellet machine. It is driven by a 3-phase electric motor. The power ranges from 5.5kw to 22kw. The production capacity is from 50-100kg/h to 250-400kg/h. It is equipped with 4 wheels that enable you move it to anywhere easily. Different from electric pellet machine 150-300C, this type has the electric motor half covered. This design contributes to thermal dissipation, and save the production cost. So this is a portable and economical type for home use and small-scale production.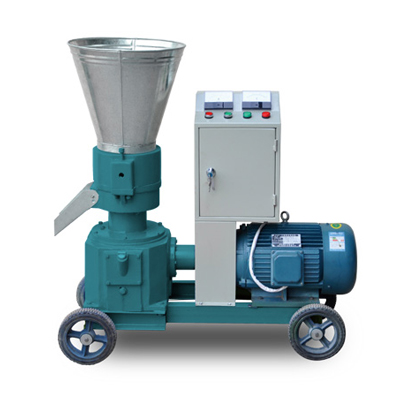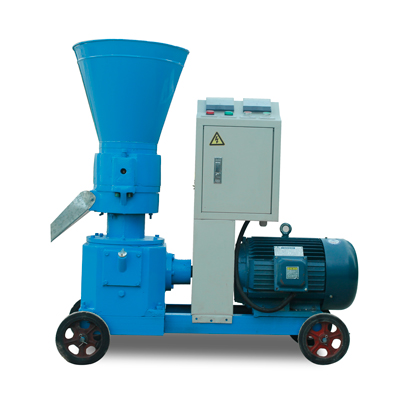 Pellet machine is used to make high-density wood pellets with sawdust, straw, rice husk, barks and other biomass materials. As a green and renewable energy, wood pellets are used in home heating, central heating, industrial boiler and electric generator. The application of wood pellets can save energy and reduce air pollution. It has become an important energy source in developed countries.
Structure of electric pellet machine 150-300B
This mobile pellet machine is composed of a electric motor, a gearbox, a transmission shaft and a main shaft, a flat die, a roller, a feed hopper, a slicer, a discharge hopper, and a electric control cabinet, etc.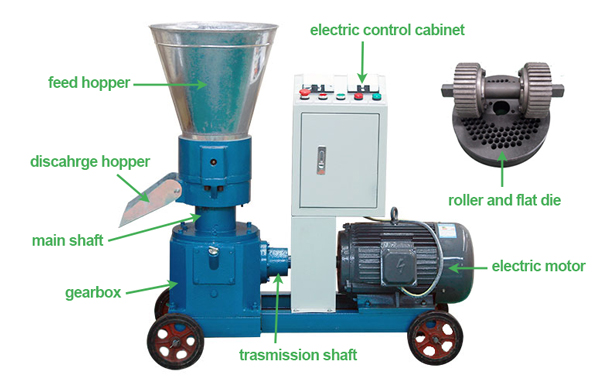 The feed hopper is enlarged and strengthened with thicker materials.
The roller and flat die are made of superior alloy steel. They are processed by carburizing and quenching. The hardness is 55-60HRC. They have long working life.
The flat die has many holes on it. The diameter is Ø2.5-Ø10. They applies to different materials. We have achieved the best compression ratio of the die hole after a number of experiments.
The gearbox is cast with superior grey iron. It features low noise and good cushioning effect.Inside the gearbox is a bevel gear drive. It is more efficient than belt drive and worm drive. It also has higher precision and longer working life.
The body shell is enhanced with reinforcing ribs and thicker castings. It will never break under normal working condition.
The electric control cabinet conforms to CE standard. It adopts famous brand like CHINT and SIEMENS. The scram button allows you to shut down the machine quickly under emergency. It also has overload protection. We can equip it with star-triangle starter under if needed.
Specifications of electric pellet machine 150-300B
| Model Number | Power(kw) | Output(kg/h) | N.W./G.W.(kg) | Package Size(mm) |
| --- | --- | --- | --- | --- |
| ZLSP150B | 3phase, 5.5 | 50-100 | 95/100 | 800*450*700 |
| ZLSP200B | 3phase, 7.5 | 80-120 | 200/230 | 1050*480*930 |
| ZLSP230B | 3phase, 11 | 120-200 | 290/320 | 1180*540*1000 |
| ZLSP260B | 3phase, 15 | 160-250 | 320/360 | 1240*540*950 |
| ZLSP300B | 3phase, 22 | 250-400 | 350/380 | 1300*560*1100 |

How does the flat die pellet machine work?
When you power on the pellet machine, the electric motor drive the main shaft through the gearbox and transmission shaft. The flat die connected with the main shaft start to rotate. The roller shaft keep still while the 2 rollers rotate around it.
When the biomass materials are fed into the hopper, they fall on the flat die. During the rotation of the flat die, the rollers roll across the raw material layer and press them into the holes on flat die. The biomass materials are formed into cylindrical pellets in the holes. When they come out under the flat die, there is a slicer cutting them off. At last, the biomass pellets fall on the pellet-throwing disc and get out though the discharge hopper.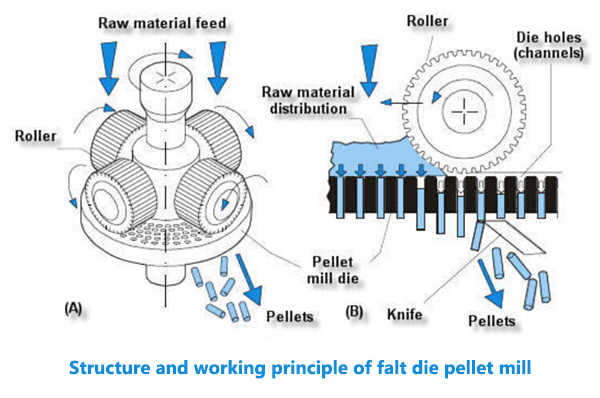 Raw materials for making wood pellets
The raw materials for making wood pellets include sawdust, wood chips, crop straw, corncob, rice husk, cotton stalk, cotton seed hull, peanut shell, grass, branch, bark, household garbage, factory waste, etc. Besides, pellet mills can be used to make pellets from biological fertilizer, organic fertilizer, compound fertilizer, etc.

Requirement on raw material
To make wood pellets, the moisture content of raw materials should be 10%-18%. If your materials don't meet the requirement, you need to dry them with natural air or a dryer machine.
The maximum size of raw materials should be less than the hole size of flat die. Usually the flat die hole size is 6mm and 8mm, and the diameter of the materials is 3-5mm. If you materials don't meet the requirement, you can crush them into fine sawdust with a wood chipper or hammer mill.
You can use single biomass materials to make wood pellets, or mix several materials together. For example, rice husk has less adhesive force, so it is usually mixed with sawdust to make pellets. But make sure there is no iron or stones in the raw materials or they may damage the pellet mill.
The pellet mill can achieve good pelletizing effect with no need for any binders. But to improve the production, extend the service life of flat die and roller, we recommend you to add binders if needed.
Advantages of TICO mobile pellet machine
Adopt simple and compact design. It small and light, take up a little space. It is mobile and portable, adapt to various working condition.
It is easy to make wood pellets with this machine. You can feed dry materials in and get dry pellet out. The production capacity is high and the power consumption is low.
High forming rate. The wood pellets has high hardness, smooth surface, and good burning effect. The density is more than 1100kg/m3. They are convenient for transportation and storage.
It works well for various biomass materials, whatever wood chips, crop straw or organic waste. You don't need to add any binders.
With normative production process and strict test standard, the pellet machine have stable performance and long working life. It is easy to operate, maintain and replace the spare parts.
TICO flat die pellet machine has obtained many national letters patent. They have passed the ISO9001 and CE certificate.
Since our foundation in 1997, TICO's products have been exported to Europe, America, Asia and Africa. They have won reputations at home and abroad.

Warranty policy
We ensure every product meets the quality standard. The warranty period is 12 months since the release date. During the warranty time, we can replace the defective products for free. We reserve the rights to ask customers to give back the defective products or components for factory inspect.

Get In touch Now!
We receive enquiries in English, Español (Spanish), Русский язык (Russian), Français (French) and العربية (Arabic). Our professional team will reply to you within one business day. Please feel free to contact us!