Electric Pellet Machine 550B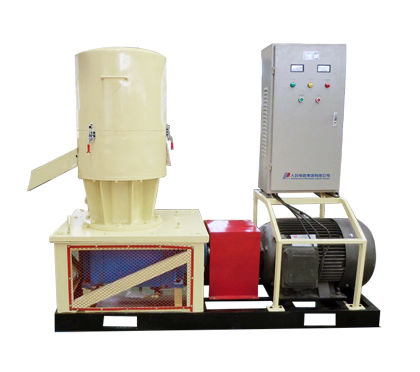 Flat die pellet machine 550B is our self-developed equipment. It has obtained national intellectual property. As a professional type, it can produce 500-800kg biomass pellets per hour. The 550B industrial pellet machine is suitable for mass production or people with large quantity of biomass materials to deal with.
This industrial pellet machine adopts a rotating roller and a stationary flat die as the compression part. It is easy to operate and can work continuously under stable condition.
The gearbox adopts high-precision gear drive. During operation, the hydraulic oil transmission system can automatically supply oil to gearbox and main shaft to ensure continious work. The core part—flat die and roller adopts superior alloy steel, whose hardness is above HRC50. The stiffness ensures the pellet machine have long service life and stable performance.
| Type | Power (KW) | Capacity (kg/h) | Weight (kg) | Packing Size (mm) |
| --- | --- | --- | --- | --- |
| ZLSP-R 550B | 55 | 500-800 | 2000 | 2300*750*1850 |

Where can high-capacity pellet machine be used?
The 550B industrial pellet machine can process most kinds of crude fiber materials, such as maize straw, sawdust, rice husk, cotton straw, cotton seed hull, weeds and other crop waste. It can also process factory waste, home garbage and materials that is hard to shape. Besides, it can also make microbial fertilizer, organic fertilizer, and compound fertilizer at low temperature.
Wood pellets can be applied in industrial boiler, power plant, food and feed processing plant, farm and home stove. In many places, biomass energy is encouraged by policy, so it's a promising industry worth engaging.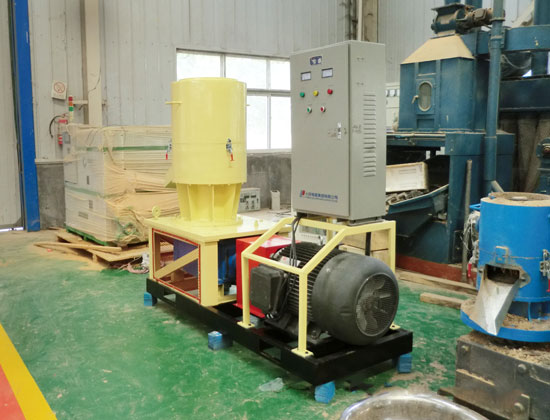 How does industrial pellet making machine work?
The large-scale pellet machine adopts rotating roller and stationary die design. When you feed biomass materials into the hopper, they are squeezed by the relative motion of roller and die. There are many holes on the flat die. When biomass materials are squeezed into these holes, they are molded into pellets of certain diameter.
The power of electric motor is 55kw. It drives the gearbox, the gearbox drive the main shaft, and the main shaft puts the roller in motion. The roller rotates both on the mainshaft and on its own axis to distribute the raw materials on the flat die uniformly.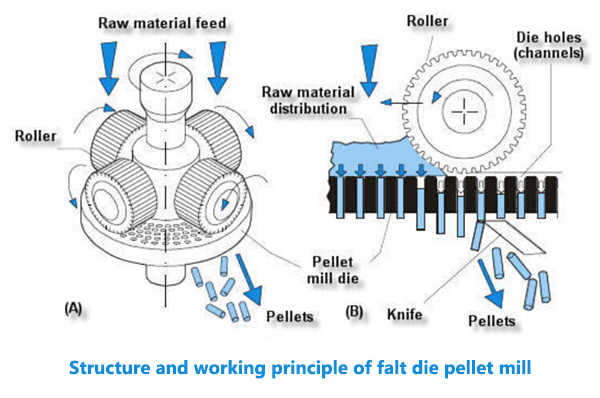 Superiorities of industrial pellet machine 550B
The gearbox is made up of high-precision gears.
The hydraulic oil pump can continuously feed oil to gearbox and main shaft bearing. The lubricating process can extend the service life of core parts.
The roller and die are alloy steel processed by high heat. The stiffness is more than HRC50, which ensures the continuous working.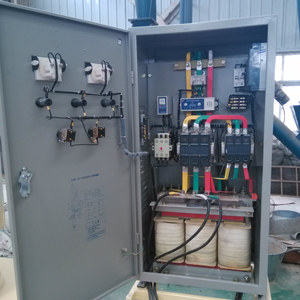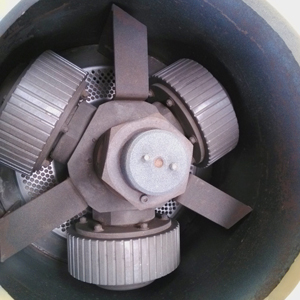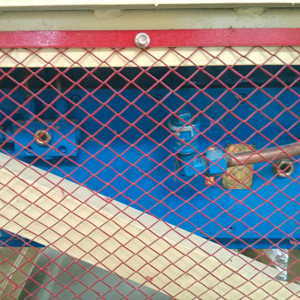 Support equipment for large-scale pellet machine
As said above, 550B pellet machine is designed for mass production. With only manpower available, it's hard to achieve full capacity. Therefore, support equipment is necessary. These support equipment include hammer mill, screw conveyor, flash dryer, pellet cooler, etc. They work together to realize continious and automatic production.
You don't have to gather all support equipment to build a complete pellet production line. But given the high volume of pellet machine, hand feeding can't meet the demand. We recommend you to use screw conveyor for assistance.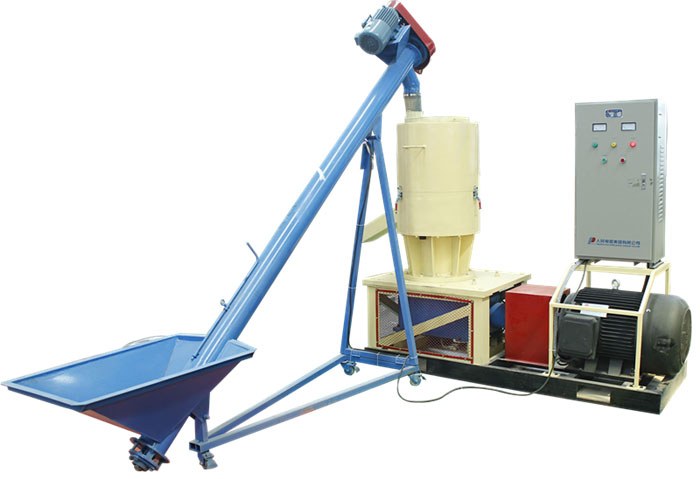 Screw feed conveyor is an auxiliary equipment for 550B pellet machine. It isn't contained in the pellet machine. You need to buy it separately.
A screw conveyor can feed raw materials to the pellet machine more efficiently. It features uniform feeding and adjustable speed.
Get In touch Now!
We receive enquiries in English, Español (Spanish), Русский язык (Russian), Français (French) and العربية (Arabic). Our professional team will reply to you within one business day. Please feel free to contact us!