Electric pellet machine 150-300C
This type of pellet machine adopts a fully-covered shell on its electric motor (CE certified). It has small volume and simple structure, which is easy to move and operate. It is mobile with 4 wheels under the foundation. The feed hopper has large size, and the pelletizing part is a stationary roller and a rotating flat die. The highest production is 250-400 kg/h.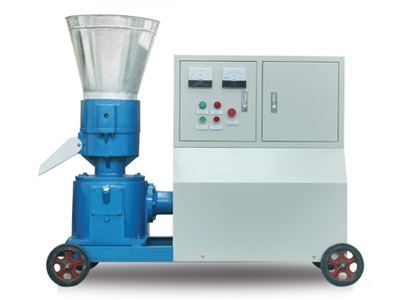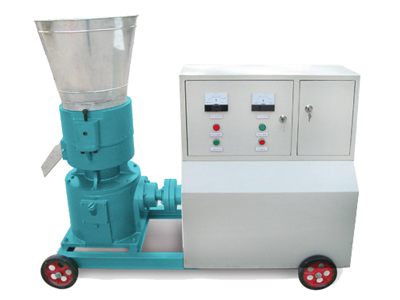 Usable raw materials
Electric motor pellet machine 150C is able to process various crude-fiber materials into pellets, such as sawdust, rice husk, cotton stalk, cotton seed hull, weed, crop straws, peanut shell, corncob, household garbage, factory waste, etc.


Some of them are hard to get formed because of low adhesive rate. But a pellet machine can realize this even without any binders. It a useful equipment for timer mill, saw mill, tree farm, fuel plant, furniture manufacturer and people who need wood pellets.
Application area
Home heating and hot water supply. Wood pellets have higher combustion ratio than firewood, and they are easy to store and transport.
Industrial biomass boiler. Wood pellets can take the place of coal and used as the main fuel in industrial boiler. The adoption of biofuel can relieve the air pollution.
Power generation. wood pellets can be used in thermal power station.

Different Types and specifications
| Model Number | Power(kw) | Output(kg/h) | N.W./G.W.(kg) | Package Size(mm) |
| --- | --- | --- | --- | --- |
| ZLSP150C | 3phase, 5.5 | 60-110 | 105/125 | 1000*480*780 |
| ZLSP200C | 3phase, 7.5 | 80-120 | 210/230 | 1050*550*830 |
| ZLSP230C | 3phase, 11 | 120-200 | 290/320 | 1200*560*950 |
| ZLSP260C | 3phase, 15 | 160-250 | 340/370 | 1240*580*1000 |
| ZLSP300C | 3phase, 22 | 250-400 | 425/465 | 1300*620*1100 |

Performance feature of mobile pellet mill 150-300C
Electric motor pellet machine 150C features compact structure, high capacity, low power consumption, easy operation, stable performance.
The roller exert uniform pressure to the flat die. It rotates steadily. And the pressing area has been enlarged to improve the production capacity.
Adopts screw center pressure adjusting device. You can easily adjust the clearance between roller and flat die to adapt to different materials and ensure the pellet making effect.
There is a observation door on a side of the pellet machine. It allows you to inspect the condition of inside and find the fault in time.
The flat die is usable in both sizes, which doubles its working life. The hole sizes of the flat die is 2.5-10mm. You can choose the one that suits you best.
The drive system adopts connecting-shaft device. Key parts are made of superior alloy steel and wear-resistant materials.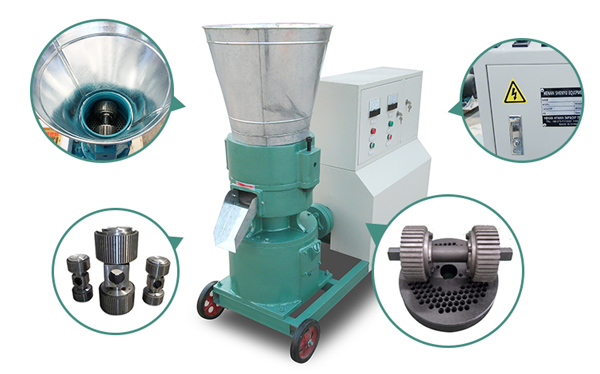 Working principle
This small-scale wood pellet mill adopts flat die structure. The main components are electric motor, gearbox, drive shaft, flat die, roller, feed hopper, slicer and outlet.
The electric motor drive the main shaft through gearbox. The main shaft drive the flat die. The roller rotate on the flat die as well as on its own axis. When you feed raw materials into the feed hopper, they fall on the flat die and get evenly distributed. When the flat die rotates, the roller continuously rotates over the raw materials, and press them into the holes on flat die. They get formed in these holes and get squeezed out. When they come out, they become solid cylinders. There is a slicer cutting them into short pellets. The pellets are sent to the outlet through the dump tray.
The density of these pellets are 1.1*103 kg/m3. The diameter is 2.5-10mm according to the hole size of flat die. You can adjust the length by changing the height of the slicer. They meet the European standard, where the length should be 5 times that of the diameter.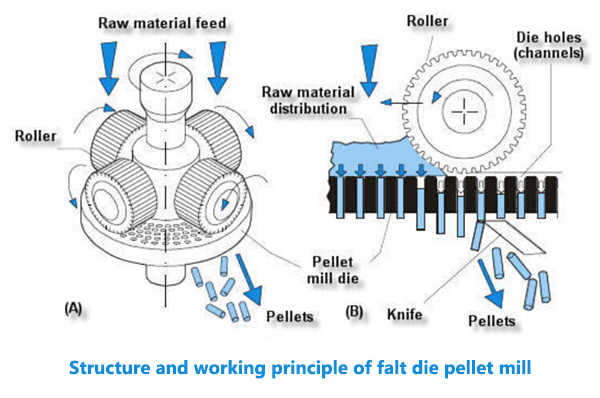 Reliable service
Safe Packing
TICO pay equal attention to every detail, including packing and transportation. After inspection and testing, the equipment is well packaged with a plastic film and a composite material box in case it get damp and broken. We try our best to make sure the pellet machine is intact when clients receive it.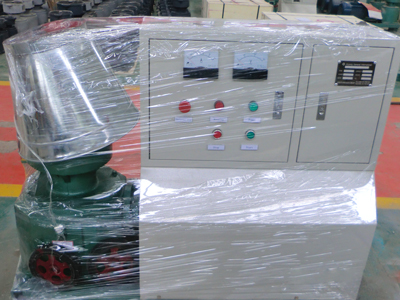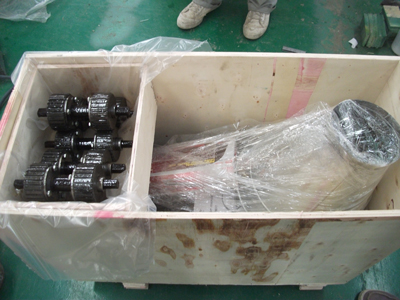 Quality assurance
All TICO's products have passed the ISO9001 quality certification and EU CE certification. After the experiment of many companies, they are acknowledged to have the same performance as foreign products.

Comprehensive service
Project design, equipment acceptance, installation and debugging. We provide customized solution to meet your specific requirement.
Long-term supply original pellet mill spare parts such as roller, flat die, bearing, and bevel gear drive, etc.
One year warranty and life-long maintenance. Welcome to send E-mail at info@pellet-making.com, or call us at +86-0372-5368538.
Get In touch Now!
We receive enquiries in English, Español (Spanish), Русский язык (Russian), Français (French) and العربية (Arabic). Our professional team will reply to you within one business day. Please feel free to contact us!