Grass pellet machine
Grass is available in farmland, lawn and residential green belt. It a common material to make feed pellets and biofuel pellets. Grass pellet making machine is a specialized equipment for making pellets from grass and other biomass materials.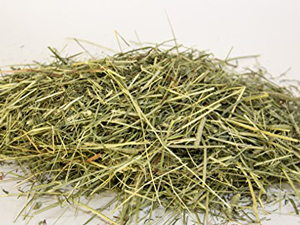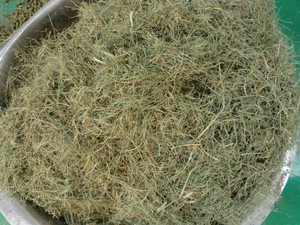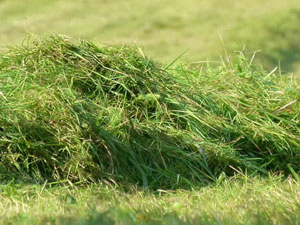 Why you should make grass pellet fuel
As grass has lower density than wood material, it causes less wear and tear to grass pellet making machine. And the grass pelletizer can work at higher speed and productivity.
Grass is more economical and available than other wood materials.
Grass pellets fuel can be used in pellet stove, furnace, water heater, industrial boiler and electric plant. They boast low carbon emission and high combustion rate.
The BTUs of grass pellets is the same as wood pellets, but the ash residue is a little more than wood pellets. So we recommend you to mix wood pellets with grass pellets to reduce the ash residue.
As we know, the water content in raw materials for making wood pellets should be lowered to 10%-18%. Grass materials are more lose, which can be dried by air on the field, and save a great deal of cost compared with wood.
Grass is more convenient to store and transport than bulky grass materials, for it has less volume and contains less dusts.
Making grass pellet fuel has become a prevalent business all over the world. Biomass pellets are energy-efficient, eco-friendly and economical, which has receive supports from governments and NGOs.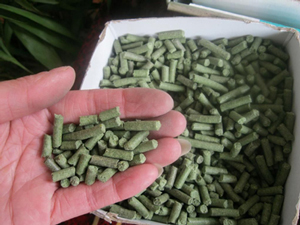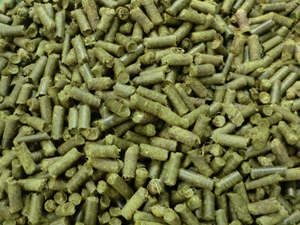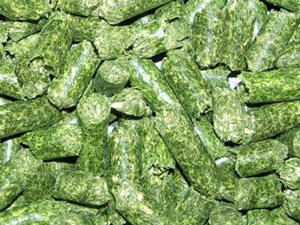 How to make grass pellet fuel
Making high quality grass pellet fuel takes the following steps. The major equipment is a grass pellet making machine.

Dry grass materials
Mow the grass and lay them in an open place. Keep the layer thin and let them dried by the sun and wind. Limit the moisture content to between 10% and 18%.
Preheat the grass pellet making machine
Start the grass pellet making machine, and wait a few minutes for preheat, so that it can melt sway the lignin in grass and make it easier to combine.
Collect the produced grass pellets
Before feeding grass materials into the hopper of grass pellet making machine, you need put a container under the outlet to collect the produced pellets.
Check the pelletizing effect
Inspect the quality of grass pellets. If they are crumbly, this indicate the raw materials are too dry. You need to add water to them. If the grass pellets are pasty, this shows the moisture content in materials is too high. You need dry them further.
Cool the grass pellets
Don't pack the grass pellets right after pelletizing. Leave them in good ventilation status until they get cooled.
Packing the grass pellets
Collect the unused grass pellets and package them in bags for further use or sale. These grass pellets are useful in cooking, heating and power generation, etc.

A high-efficiency grass pellet making machine can help you make grass pellets at high speed and low cost, and improve the molding rate and lower the material waste as much as possible. Our grass pellet making machine can be driven by electric motor, diesel engine, gasoline engine, and PTO (power take off). Their production capacity are from 100 to 400 kg/h.
You don't need to add any binder to the materials, but some binders may improve the pelletizing effect. Besides, you can also mix different biomass materials together to make pellets with different properties.
Type
Model
Power
Capacity (kg/h)
Weight (nw/gw)
Packing size (mm)

Electric motor
ZLSP-D 150B
5.5kW
50-100
95/110
800x450x700
ZLSP-D 200B
7.5 kW
80-120
200/230
1050x480x930
ZLSP-D 230B
11 kW
120-200
290/320
1180x540x1000
ZLSP-D 260B
15 kW
160-250
320/360
1240x540x950
ZLSP-D 300B
22 kW
250-400
350/380
1300x560x1100

Diesel engine
ZLSP-D 150A
8HP
50-100
180/220
100x500x750
ZLSP-D 200A
15 HP
80-120
210/240
1460x750x900
ZLSP-D 230A
22 HP
120-200
280/310
1560x850x1100
ZLSP-D 260A
30 HP
160-250
330/360
1200x500x1070
ZLSP-D 300A
41 HP
250-400
410-450
1220x600x1000

Gasoline engine
ZLSP-150Q
7.5HP
90-120
180-220
1000x500x750

PTO
ZLSP-D 150P
≥8 HP
50-100
90-110
900x540x1020
ZLSP-D 200P
≥15 HP
80-120
130/150
1000x540x1020
ZLSP-D 230P
≥22 HP
120-200
175/200
1000x540x1020
ZLSP-D 260P
≥33 HP
160-250
235/255
1050x540x900
ZLSP-D 300P
≥41 HP
250-400
305/325
1100x540x1000
Advantages of grass pellet making machine
The roller and flat die is designed based on a multitude of experiments to achieve the best compression ration, largely improving the molding rate.
The drive system adopts high-precision gear drive. Low noise.
High quality bearing and oil seal to ensure stable performance and long service life.
We can provide flat die with different hole size to fit various materials.
The materials it can process includes grass, hay, alfalfa, timothy, straw, sawdust, etc.
All our pellet making machines have obtained CE and ISO certifications.
Get In touch Now!
We receive enquiries in English, Español (Spanish), Русский язык (Russian), Français (French) and العربية (Arabic). Our professional team will reply to you within one business day. Please feel free to contact us!