Airflow dryer
Airflow dryer is a support equipment in pellet mill plant. It is used to dry the raw materials and remove excess water. For making pellets, the water content in raw materials should be kept between 10% and 20%. Drying is a necessary process for materials with high moisture content like grass and green straw.
If you have enough outdoor space, you can put the materials in the open air and let the sun and wind dry them naturally. But natural air drying takes much more time than a dryer machine.
TICO airflow dryer achieves drying effect with high-temperature air flow. It applies to materials whose diameter is less than 3mm, and length is less than 5mm. Rice husk, sawdust and fine wood chips can be fed into the dryer directly, but for larger materials, you need a hammer mill to crush them in advance.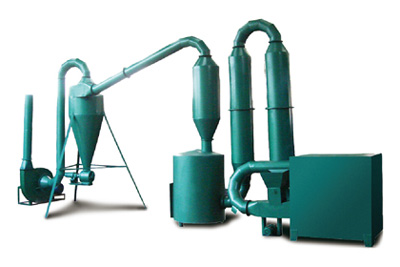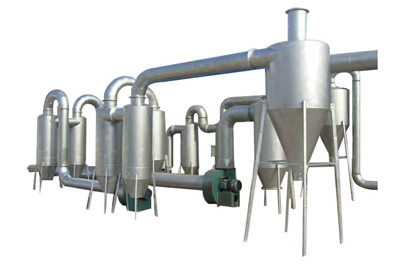 Parameters of airflow dryer
The production capacity of airflow dryer is 300-600kg/h. The least power is 7.5KW and 11KW. There are QLH300A and QLH350A 2 types. They have the same drying effect but different capacity.
| Model | Capacity (t/h) | Motor power (kw) | Initial moisture % | Final moisture % | Size L*W*H(m) | Weight (kg) |
| --- | --- | --- | --- | --- | --- | --- |
| QLH300A | 0.3-0.4 | 7.5 | 25-30 | 10-15 | 16*3*3.2 | 2660 |
| QLH350A | 0.5-0.6 | 11 | 25-30 | 10-15 | 18*3*3.3 | 2660 |

Working principle of airflow dryer
When you feed powder, granule, and sawdust material into the airflow dryer, they are suspended under the function of air blower. In the drying chamber, they are fully mixed with the hot air and get dried quickly. The dried materials has the water content as low as 10%.


Features of airflow dryer
Raw materials available: rice husk, saw dust and crushed wood shaving, branches and wood chips. The diameter should be less than 3mm, and the length should be less than 5mm.
Product efficiency: the temperature of air flow is between 180℃ and 300℃. At the temperature of 180℃, the airflow can lower the moisture content from 30% to 10%.
Power source: firewood, coal, steam and electricity are all available.
TICO airflow dryer has large capacity, high drying efficiency, small floor space, and low fault rate. It can be applied in food and chemical industry.
The cost is lower than our counterparts because we have our own factory. If you want to get a quote, please click the button on the right to send us inquiry.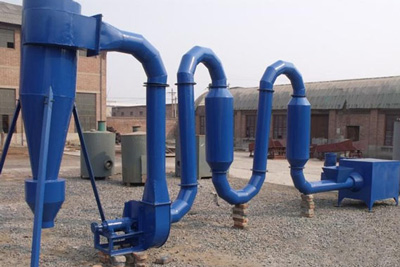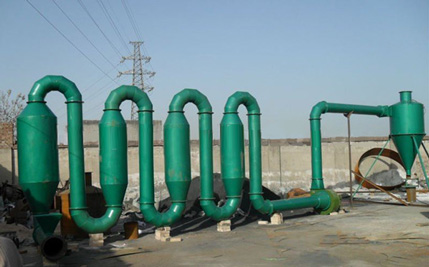 Airflow dryer operating process
After installation finishes, open the air blower, check if the rotating direction is right and the feed hopper has enough suction force.
Check if every flange connector is in normal condition. Ensure there is no air leakage.
Bundle a cloth bag with both ends open to the outlet of the separator.
You should eliminate those large-size particles before feeding materials to the hopper. In this way you can improve the drying speed.
Before starting the air blower, you should feed the stove with enough fuels. When the temperature at air outlet reaches up to 150℃. You can feed materials to the air flow dryer hopper.
Clear large particles of materials at the discharge port in case they block the outlet.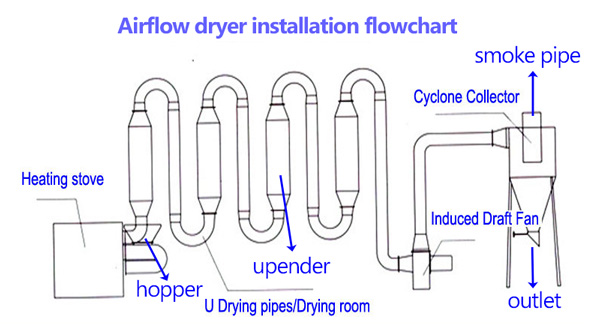 The structure chart of airflow dryer
Get In touch Now!
We receive enquiries in English, Español (Spanish), Русский язык (Russian), Français (French) and العربية (Arabic). Our professional team will reply to you within one business day. Please feel free to contact us!