How to Choose the Right Type of Biomass Fuel?
How to choose the right type of biomass fuels for the users of biomass fuels? The users who choose biomass fuels are generally looking at the characteristics of "environmental protection" and "low cost" of biomass fuels. So how to choose among so many kinds of biomass fuels, such as peanut hull pellets, rice hull pellets, miscellaneous wood pellets, pine pellets? Next, we will introduce the calorific value, application field and price of various fuels separately, so that the users of biomass fuels in various industries can have their own judgments.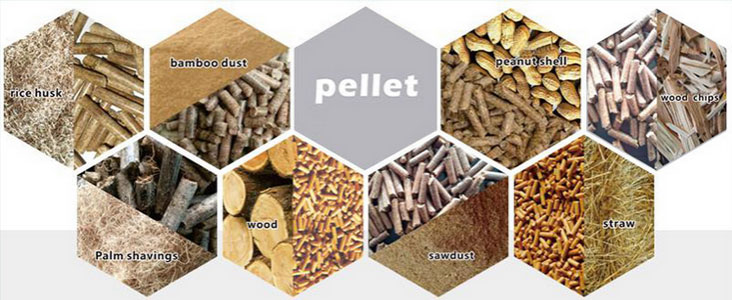 Generally, the users of biomass miscellaneous wood particles are large chain-type biomass boilers, which can use high-cost biomass miscellaneous wood particles. Generally, peanut hull granules, peanut hull compaction and rice hull granules can be used instead, which can effectively reduce the operation cost of the boiler
Heat-conducting oil boilers need fast heating per unit time and require high calorific value of fuel. It is generally recommended that customers adopt gas-fired heat-conducting oil boilers and biomass pellet burners. Pine pellets with high calorific value can meet the production demand.
Biomass burners can generally use biomass pine pellets as fuel. If you want to burn ordinary pellets, you need to equip the latest automatic slag burner, which can reduce the operation cost of burning miscellaneous wood pellets and solve the problem of insufficient fuel supply.
Biomass steam generators generally burn slightly coked pine pellets and basically non-coked pinus sylvestris var. mongolica pellets. From the point of view of cost and supply, it is suggested to use biomass pine pellets, which is cheaper than that of Pinus sylvestris var. mongolica. The disadvantage is that the combustion ash is higher than that of Pinus sylvestris var. mongolica pellet.
Some can burn peanut hull briquette. Small biomass boilers can also choose peanut hull briquette, peanut hull pellet, rice hull pellet, etc., which are also the relatively low cost options.
Get In touch Now!
We receive enquiries in English, Español (Spanish), Русский язык (Russian), Français (French) and العربية (Arabic). Our professional team will reply to you within one business day. Please feel free to contact us!