Comparison between hardwood and softwood pellets
Wood pellets can be classified into hardwood pellets and softwood pellets.
Hardwood includes birch, poplar, yew, and elm. Hardwood have high density and low water content, which burns longer than soft wood.
Softwood refers to gymnosperm, such as pine, mahogany, cedar, and spruce. Softwood pellets burn more sufficiently than hardwood pellets.
Wood pellets can be used in heating stove, barbecue, industrial boiler, and power generation. The burning efficiency is more than 80%, higher than the coals' 60%. And they generate less SO2, NOx, ash and dust.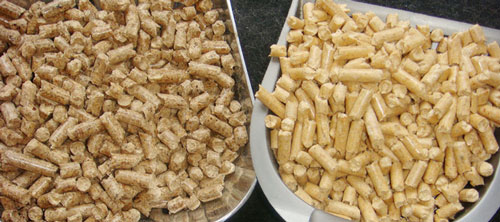 hardwood pellets and softwood pellets
Comparison between hardwood and softwood pellets
Price
As hardwood cost higher than softwood, the price of hardwood pellets is higher than softwood pellets. Hardwood pellets are usually sold as superior pellets.
Heat value
Softwood pellets has higher calorific value than hardwood pellets, with 10%-20% BTU heat generation. This is because softwood pellets contains more sap than hardwood and makes them burn faster.
Ash content
Ash content depend mostly on the cleanliness of sawdust rather than the wood types. Some researches compared the ash content between softwood and hardwood pellets. Although all high quality wood pellets contain lower than 1% ash content, hardwood pellets may generate 3 times the ash of soft wood pellets. Given a winter period, their disparities are large.

Dust emission
A research in 2009 tested the burning ratio and dust content of hardwood and softwood pellets. The result reveals that their burning ratio is similar, while their dust emission varies a lot. For materials with low burning ratio, the dust emission of softwood is higher than hardwood. For materials with high burning ratio, hardwood pellets has more dust emission than softwood pellets.
Advantages of wood pellets over wood logs
Sawdust are easy to obtain. They are much cheaper than wood logs.
The wood pellet making process includes crushing, drying and mixing, which will increase the heat efficiency and reduce the ash and smoke emission.
Wood pellets have moisture content lower than 10%, while wood logs contains 40-50% moisture. High moisture content reduce the heat and increase the smoke and ash.
A ton of wood pellet fuel burns much longer than a ton of wood logs, and generate more heat than logs.
Wood pellets have uniform size, shape, and density, convenient to store and transport, and apply in automatic burning system.
Should I choose hardwood or softwood pellets?
To choose hardwood pellets or softwood pellets, you should consider the following factors:
Your fuel budget. As we know, hardwood pellets cost higher than softwood pellets. If you want to spend less on fuels, it is better to choose softwood pellets.
Your burning stoves. Nowadays, most wood pellet stoves adapt to both hardwood pellet and softwood pellets. So you should compare the quality and efficiency of stoves, rather than hardwood or softwood.

Wood pellet production process. In fact, the quality of wood pellets is determined by how it is produced rather than which wood it is made of.
Wood pellets are made by raw material crushing, drying, molding and cooling. The size of raw materials should be 3-5mm, and the moisture content should be kept between 14% and 20%. Any of these process would have great impact on the final product quality, but the most important factor is the pellet making machine. High quality pellets machine can produce wood pellets with high density, smooth surface, high calorific value, and low ash content.
GEMCO is an experienced pellet machine manufacturer and exporter. If you want to make high quality wood pellets on your own, our machine is a reliable choice. Welcome to send us messages in the form below.↓↓↓
Get In touch Now!
We receive enquiries in English, Español (Spanish), Русский язык (Russian), Français (French) and العربية (Arabic). Our professional team will reply to you within one business day. Please feel free to contact us!