How to choose wood pellets for grills and BBQ?
This passage is divided into 3 parts:
Click the items above to jump to the part you want to read.
wood pellet grill introduction
Wood pellet grill looks like an offset barrel smoker with a side-mounted hopper replacing the firebox, or a stainless steel grill with a hopper in the back. It is an outdoor cooker that combines the functions of charcoal smokers, gas grills, and kitchen ovens. It is equipped with an automatic control system to feed wood pellets, regulate the airflow and maintain the roasting temperature.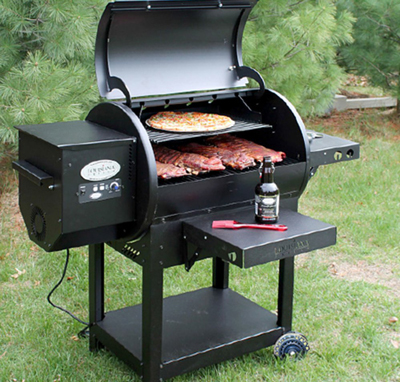 Advantages of wood pellet grill
Wood pellets are made of clean and dried sawdust, with no additives or binders. It is cleaner than charcoals and propane. Wood pellets burns more sufficiently, with little ash content, and the heating temperature is high. They can preserve the original taste of food, which is better than those roasted by propane.
In wood pellet bbq, the higher the grill temperature, the less the smoke emission. So it also applies to to make cakes or pies who need no smokes. Under the temperature of 250°F, it will generate a lot of mild haze. The food is hard to burn black or over smoked by the wood pellets.
Digital automatic control. By controlling the roasting time and temperature you can make smoked or baked food. Such as smoked Turkey, ribs, salmon, ribs, brisket, as well as cakes, pies, etc.
Working principle of wood pellet grill
Wood pellet grills are equipped with a digital controller and a LED display screen, which allows you to set the bbq temperature and time.
The screw propeller feed wood pellets to the burning chamber. At the bottom of the chamber is a ignition rod. Once the wood pellets have burnt, the igniter will shut down, and the wood blower will supply air to the igniter.
Over the burning chamber is a large deflection plate, which spread the heat evenly and transmit it to the bbq. Some grills have a optional tapping over the burning chamber that allows you to Roast the meat directly over the flame.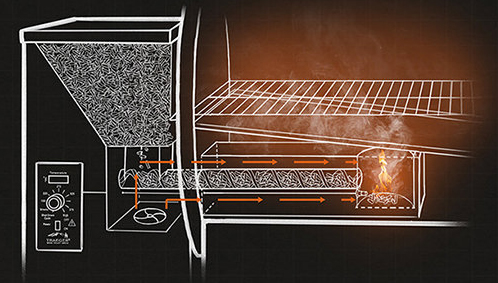 Tips of using wood pellet grill
Keep the wood pellet fuel dry. If the wood pellets become damp, they will be hard to ignite. Even if the damp wood pellets are ignited successful, the heat quantity will decrease.
Don't use wood pellet grills in the rain. The electronic components would get damaged in contact with water. The wet igniter, blower, and electric motor will have shortcut or rust. So you should use the wood pellet grill in good weather.
Regular checking. Check the wood pellet grill regularly in frequent use period. Make sure the power line and thermal meter are not eroded by liquid. Every time before using wood pellet grill, check if they are damaged or loose.
Use wood pellet grill in ventilated environment. Ensure the oven chimney is not blocked. Many wood pellet grills are required to use in outdoors.
Using electricity safely. The control button should be in off state every time before power on or power off. Fasten the power line and connect it to the socket with grounding function in case it stumble you when you walking around the grill.
Keep the wood pellet grill clean. Every time after using the wood pellet grill and it cooled down, remember to clean it thoroughly. Otherwise, the food residues will be scorched the next time and pollute the new food.
Every time before using wood pellet grill, replace a new tinfoil grease holder. In bbq, the meat will generate a lot of greases under high temperature. They may burn in the grill chamber, so we need a grease holder to collect the grease.
Wood pellets for bbq
Wood pellets are natural fuels, without petroleum content, chemical additives or binders. Their heat value is 8500BTU per pound. They generate no channeling flame and little ash content. Burning at high temperature, it has little smoke. At high temperature, the wood pellets smolder and generate good smoke taste.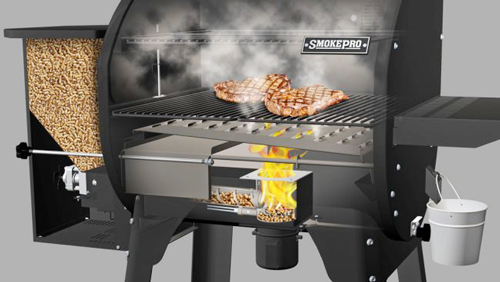 Different qualities of wood pellets respectively apply to heating stoves and grills. We can classify them into 3 types roughly.
Superior wood pellets contain less than 0.5% organic ash. They are usually made of oak and maple, without barks. The price is higher than standard wood pellets.
Standard wood pellets are made of forestry wastes, with the organic ash higher than 0.5%.
Food grade wood pellets. Both superior and standard wood pellets can be marked as food grade, as long as it doesn't contain additives or binders.
The best wood pellets for bbq should be food grade. The ash content should be lower than 1%. The water content should be lower than 8%. The lower the moisture content, the higher the heat value. Maybe you would pay more for high quality wood pellets, but higher heat value can save your cost in the long run and improve your bbq taste.
*You can buy superior wood pellets for bbq, or you can make high quality wood pellets on your own. With a small mobile wood pellet machine, you can easily make wood wastes and biomass materials into pellets, they can save your cost and make full use of your wastes. TICO is a professional pellet mill manufacturer. If you have needs or any questions, welcome to leave us a message in the form below↓↓↓
Get In touch Now!
We receive enquiries in English, Español (Spanish), Русский язык (Russian), Français (French) and العربية (Arabic). Our professional team will reply to you within one business day. Please feel free to contact us!