America wood pellet market analysis and prediction
Wood pellet production in America
America's wood pellet production began in the northeast and southeast areas. In the beginning, they are small-scale wood pellet plants that process sawmill residues, and supply residential heating market. The domestic market is limited due to the expansion of gas network and the uncompetitive price.
Thanks to the oversea demand, America's wood pellet production growth rapidly in the past few years. The expansion of wood pellet plants mainly take place in the southeast, because they are close to EU market, and there are more biomass energy, labor force, infrastructure, and technology accumulation.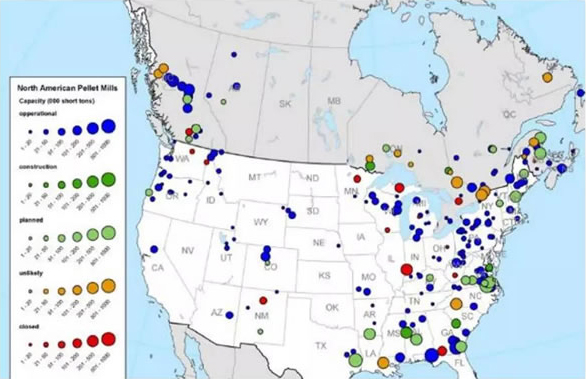 The location of wood pellet plants in North America
Production capacity and distribution
America's wood pellets production grows steadily since 2004. There are 119 factories that consumes wood residuals, but their main products has changed from papers to wood pellets. Since 2005, 16 new wood pellet production plants have been established in the south of America. Between 1995-2015, 14 pulp and paper mill have been closed permanently. By 2016, the production capacity of America wood pellet industry has reached up to 13.7 million tons.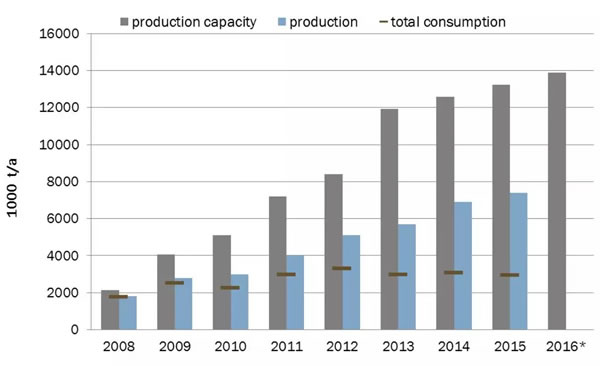 The America wood pellet production capacity growth
Most wood pellet plant in America is located in southeast, southeast and northwest areas. They are major wood production areas in America. There are 15 wood pellet plants with the production capacity more than 300,000 short tons every ear. They are all located in the Southeast America. 7 of them are in Enviva, whose total production capacity is 2.7 million tons. Amite BioEnergy and Morehouse BioEnergy is in Drax, whose total capacity is 890,000 tons. Georgia Biomass is the largest independent wood pellet plant in America, whose is production capacity is 740,000 tons.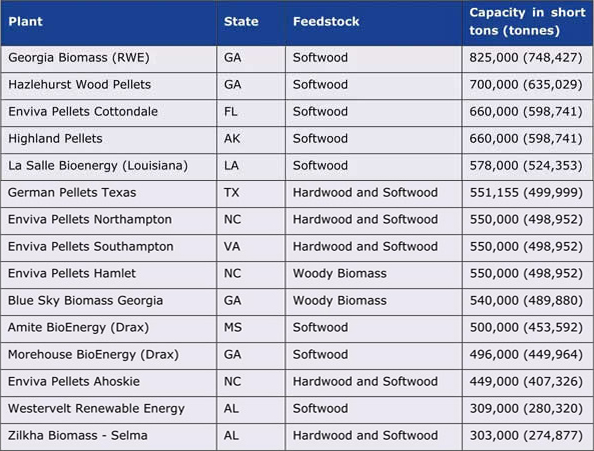 America wood pellet plant whose production capacity is more than 300,000 short tons per year
Besides, the planned wood pellet plants are expected to add 3.5 million tons' wood pellet production.
Raw materials source of wood pellets
Most wood pellet plants use residual wood fibers and pulp wood as raw materials. As estimation, wood pellets only takes up 2-4% of timber market, because they have less market value than timber and paper pulps. In this regard, biomass raw materials are usually the by products of high-value forestry products.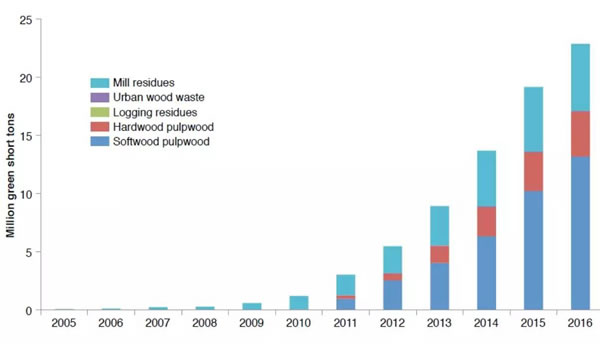 Raw materials for American wood pellets production
Wood pellets consumption in America
There is no official statistics of the domestic wood pellet consumption, but we can cauculate it according to the production, import and export. The table below shows the estimated wood pellet consumption in America.

Estimated wood pellet production in America
P:product, I:import, E:export, C:consumption
America's wood pellet production is mainly for export. In 2015, 63% of wood pellet production is for export, and the rest is for residential heating, with only 1% for commercial use. It is estimated that more than 13 million residential wood furnaces are in use ,with 10% are pellet stove. It is unclear how many wood pellets are used for power generation and heating supply.
Wood pellet price
The wood pellets consumption in the USA is driven by the price advantage. They are cheaper than residential heating oil, propane and other substitutes for firewood.
In the past, the CIF price of industrial wood pellets in Amsterdam, Rotterdam or Antwerp port is $155-175/ton. In southeast distribution port like Savanna, GA and AL, the FOB price is $140-155/ton.
In residential market, the wood pellets is supplied by bags. A bag of 40 pound wood pellets costs $5-$7. In other words, they are$275-385 per ton.

Heating price of wood pellets and other fuels
Trade and logistics
Traditionally, most wood pellets in America is produced by small-scale plants, and transported to residential heating market. Since 2007, the wood pellet production grows up rapidly in southeast areas. The overall wood pellet production grows from 2 million tons in 2008 to 7.4 million tons in 2015. But the domestic consumption is around 3 million tons. A large quantity of wood pellets are exported to Europe. They rely on large-scale transportations, including barges and railroad to the port and shipping to overseas.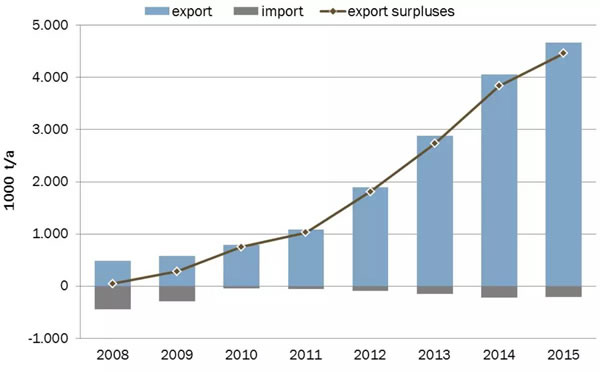 America wood pellet import and export
Policy driving and obstructions
The USA has some incentive policy for biomass heating in residential and commercial construction, but not any for industrial heating supply and power generation. In fact, wood pellets consumption for cogeneration is the least. Biomass materials are mainly used to produce the by-products of forestry industry, such as pulp and papers.
Incentives for residential heating pellets
EPA New Source Performance Standards (NSPS): In March 2015, the Environmental Protection Agency (EPA) published a New Source Performance Standards (NSPS) for residential firewood furnaces and pellet stoves.
Biomass stove tax credit policy: It is a federal incentive that provides $300 for buying high-efficiency firewood and pellet stove before the year 2017.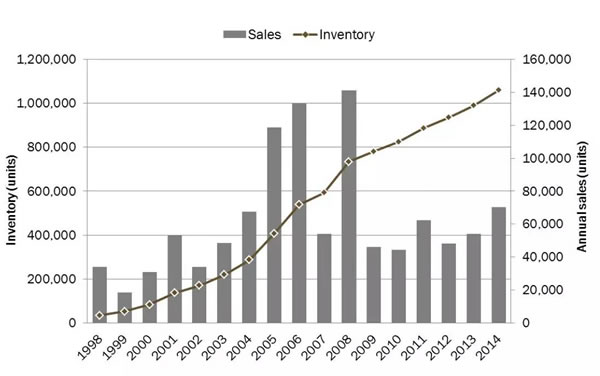 America pellet stove sales and inventory
Incentives for industrial wood pellets
EPA proposed Clean Power Plan (CPP) to reduce the carbon pollution of power plant, but It met with opposition from more than 20 states, industry groups and companies after the requirement was published. So in 2016, the Supreme Judicial Court suspended the execution of CPP.
Renewable portfolio standard (RPS) requires to increase the use of renewable energy in power generation, but wood pellets are usually not used for this purpose due to the high price.
Besides CPP, many states have made Energy Portfolio Standard and Goals. These standard requires public service companies to adopt a certain portion of renewable energy. For example, the electric power for sale must has a certain portion generated by renewable energy. It include solar, wind, hydraulic and biomass energy.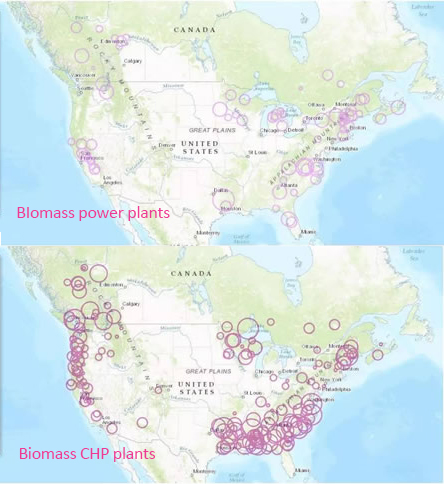 Biomass power plant distribution in America
Biofuel production goals
Wood pellets is the raw material to produce biofuel in biorefinery. But these new industries didn't drive the expansion of wood pellet production. The development of biofuel industry is driven by the Energy Independence and Security Act (EISA) published in 2007, which revised the Renewable fuel standard (RFS). The following picture shows the new goals of biofuel production set by EISA.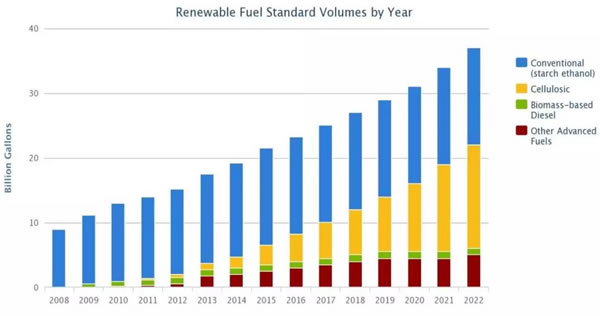 Get In touch Now!
We receive enquiries in English, Español (Spanish), Русский язык (Russian), Français (French) and العربية (Arabic). Our professional team will reply to you within one business day. Please feel free to contact us!