How to make a wood pellet mill for home use?
Is homemade pellet mill feasible?
Pellet mills are large-scale and fine machinery. It is manufactured by CNC machine, milling machine, etc. Homemade pellet mill is not realistic. Even if you have made one, the DIY pellet mills have too many limitations. It cannot ensure reliability and pellet quality. Considering the physical and mental work, the material cost and risk, it is not wise to make a pellet mill by hands.

The defects of homemade pellet mill
The core part of pellet mill—die and roller need buying. What is actually homemade is the chassis and the gearing, etc.
Homemade pellet mill usually cannot reach the rated production. If the production capacity is too low, the cost per unit would be too high. It would have no advantages over buying wood pellets directly.
Pellet mills work under high power and rotate at high speed. The deviations of installation are likely to cause break down and danger. DIY pellet mills are usually lack of safety device.
The forming rate of homemade pellet mill is unsatisfactory. There will be large proportion of particles of materials that were not compressed into wood pellets, as well as broken pellets, crack pellets, and pellets with low density.
Considering the cost of components, design, and installation, the low productivity and forming rate, the potential danger, we don't recommend you to DIY pellet mill. It is a better idea to build a large wood pellet storage silo so that you can buy large quantity of wood pellet fuels at low price. If you really want to make wood pellets on your own, a small pellet mill for home use is suitable.
Pellet mills for home use
To ensure the wood pellet production quality and efficiency, you should buy pellet mills from a professional and reliable manufacturer. To make wood pellets at home conveniently at any time, you'd better buy a small mobile electric pellet mill.
The small mobile pellet mill adopts flat die structure, driven by a 3-phase electric motor. The production capacity is from 50-100kg/h to 250-400kg/h. It is equipped with 4 wheels that allows you to move it to anywhere easily.
The small mobile pellet mill has B and C 2 types. In B type, the electric motor is half covered. This design is simple and in favor of heat dissipation. The C type has the electric motor full covered by iron sheet, which looks beautiful and safe.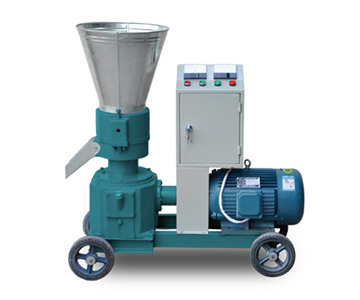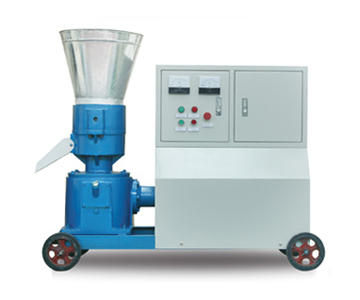 Specifications of small mobile pellet mill
| Model Number | Power(kw) | Output(kg/h) | N.W./G.W.(kg) | Package Size(mm) |
| --- | --- | --- | --- | --- |
| ZLSP150B | 3phase, 5.5 | 50-100 | 95/100 | 800*450*700 |
| ZLSP200B | 3phase, 7.5 | 80-120 | 200/230 | 1050*480*930 |
| ZLSP230B | 3phase, 11 | 120-200 | 290/320 | 1180*540*1000 |
| ZLSP260B | 3phase, 15 | 160-250 | 320/360 | 1240*540*950 |
| ZLSP300B | 3phase, 22 | 250-400 | 350/380 | 1300*560*1100 |
| ZLSP150C | 3phase, 5.5 | 60-110 | 105/125 | 1000*480*780 |
| ZLSP200C | 3phase, 7.5 | 80-120 | 210/230 | 1050*550*830 |
| ZLSP230C | 3phase, 11 | 120-200 | 290/320 | 1200*560*950 |
| ZLSP260C | 3phase, 15 | 160-250 | 340/370 | 1240*580*1000 |
| ZLSP300C | 3phase, 22 | 250-400 | 425/465 | 1300*620*1100 |

Uses of wood pellets
Small mobile pellet machine can make high-quality wood pellets from sawdust, straw, rice husk, grass, wood chips, leaves, EFB, etc. These wood pellets can be used in heating stoves, furnace, fireplace, grills, and boilers. They has low carbon emission and ash residues, clean and convenient for use.
Besides, the home pellet mill can make feed pellets for pets and livestock. Feed pellets are easy to store and digest. You can also use the pellet mill to dispose your household wastes. This can help improve environment and save fuel cost.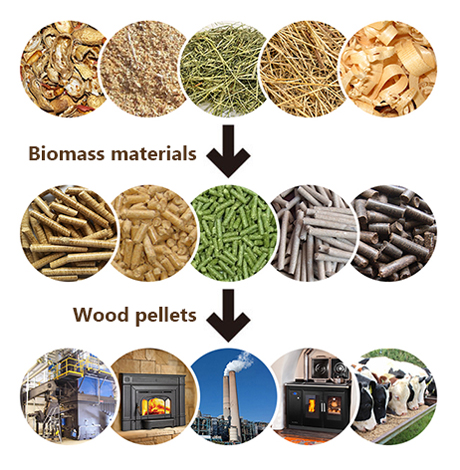 Advantages of TICO home pellet mill
The roller and flat die are made of superior alloy steel and processed by carburizing and quenching. The hardness is 55-60HRC.
We provide pellet mill die with the hole size of 4mm, 6mm, 8mm, and 10mm. The thickness of the pellet mill die is designed to achieve the best compression ratio.
The gearbox is cast with superior grey iron, which features low noise and good cushioning effect. The bevel gear drive high precision and long working life.
The electric control cabinet conforms to CE standard. It adopts famous brand like CHINT and SIEMENS. Besides, it is equipped with scram button and overload protection.
Small size, light weight, simple structure, easy operation. With the wheels, you can move it to anywhere conveniently as you need.
Get In touch Now!
We receive enquiries in English, Español (Spanish), Русский язык (Russian), Français (French) and العربية (Arabic). Our professional team will reply to you within one business day. Please feel free to contact us!