How to make wood pellets at home?
Choose flat die pellet mill for home use
To make wood pellet mill at home, you should have a homemade wood pellet mill. As we know, wood pellet machine can be classified into ring die pellet mill and flat die pellet mill, the former on is for industrial use, while the latter one is for home use and small-scale production. The flat die pellet mill is small in volume and light in weight. Some types are equipped with wheels that allows you to put it to anywhere. The most important factor is that flat die pellet mill cost much lower than ring die pellet mill and most families can afford.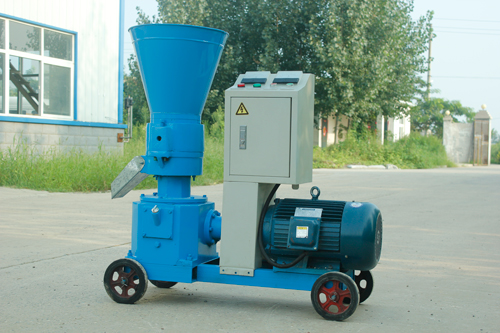 Chose pellet mill with right engines for home use
So you decide to buy a flat die pellet machine for home use. But wait! What kind of drive power do you have the easiest access to. Homemade pellet mill can be driven by electric motor, diesel engine, gasoline, and PTO.
Generally, electric motor pellet mill is the most popular type, because electric power is available in most places, and it doesn't requires you to add oil. But if you want to make wood pellets on the farm or beside your material raw material stacks, it is not convenient to connect it with electric power. For such conditions, people tend to choose diesel engine pellet mill. The diesel engine pellet mill has as many capacities as electric motor pellet mill. What's more, if you already have a tractor or other agro machinery, I recommend you to choose the PTO pellet mill. This pellet mill is excellent for farmers' home use. It cost much lower than the former 2 types, because it doesn't have a drive engine itself. Just connect it with a tractor, and the pellet mill will be driven by the engine of tractor.
The followings are the specifications of the 3 types
Drive Mode
MODEL
POWER
CAPACITY (kg/h)
WEIGHT (nw/gw)

Electric motor
ZLSP-D 150B
5.5kW
50-100
95/110
ZLSP-D 200B
7.5 kW
80-120
200/230
ZLSP-D 230B
11 kW
120-200
290/320
ZLSP-D 260B
15 kW
160-250
320/360
ZLSP-D 300B
22 kW
250-400
350/380

Diesel engine
ZLSP-D 150A
8HP
50-100
180/220
ZLSP-D 200A
15 HP
80-120
210/240
ZLSP-D 230A
22 HP
120-200
280/310
ZLSP-D 260A
30 HP
160-250
330/360
ZLSP-D 300A
41 HP
250-400
410-450

PTO
ZLSP-D 150P
≥8 HP
50-100
90-110
ZLSP-D 200P
≥15 HP
80-120
130/150
ZLSP-D 230P
≥22 HP
120-200
175/200
ZLSP-D 260P
≥33 HP
160-250
235/255
ZLSP-D 300P
≥41 HP
250-400
305/325

Choose suitable types according to the raw materials
What material you are you going to process with the homemade pellet machine. Though I put this question in this place, it doesn't mean this question matters less. Actually, you should take it into consideration from the beginning. Generally, wood pellet mill is able to process a wide range of materials, including sawdust, crop straw, rice husk, peanut shell, leaves, grass, bamboo, paper, efb, etc. As they have different hardness, their requirements on flat die pellet mills are different.
TICO flat die pellet mills can be classified into roller-turned pellet mill and die-turned pellet mill. The roller-turned pellet mill operates as the roller rotates and the flat die keep stationary, while the die-turned pellet mill works as the roller keep still and the flat die rotates. Roller-turned pellet mill has higher capacity for the more efficient structure, so it is able to process hardwood materials that die-turned pellet mills are unable to process.
Roller-turned pellet making machine
Drive Model
MODEL
POWER
CAPACITY (kg/h)
WEIGHT (nw/gw)

Electric motor
ZLSP-R 200B
7.5kW
80-120
215/245
ZLSP-R 300B
22 kW
250-350
540/575
ZLSP-R 400B
30 kW
350-450
770/810
ZLSP-R 420B
37 kW
400-600
700/1100/1200
ZLSP-R 550B
55 kW
500-800
1770

Diesel engine
ZLSP-R 200A
15HP
80-120
320/350
ZLSP-R 300A
41 HP
250-350
850/890
ZLSP-R 400A
55 HP
350-450
1010/1050
What support equipment do you need?
To make wood pellets at home, a single homemade wood pellet mill is usually not enough, because you are not likely to have raw materials meeting the requirement of making pellets. For making wood pellets, the moisture content of raw materials should be between 10%-18%, and the size should be less than that of holes on flat dies. As the hole size of flat die are commonly 6mm, 8mm and 10mm. So the required size of raw materials are 3-5mm.
If the moisture content of your materials doesn't accord with the requirement, you need a flash dryer or rotary dryer to remove the water. Flash dryer is suitable for small-size material, while rotary dryer applies to large-size materials. Also, if you don't have too many materials to process, or if you don't have requirement on the speed of drying, you can simply put them on open-air condition and let the wind bring away the moisture naturally.
To reduce the size of raw materials, a wood hammer mill is indispensible. There are large and small hammer mills. For home use, a small hammer mill is enough. It is able to cut materials with the diameters of about 30mm into fine pieces whose diameter is from 2mm to 5mm. Meanwhile, wood hammer mill also have electric motor and diesel engine 2 types.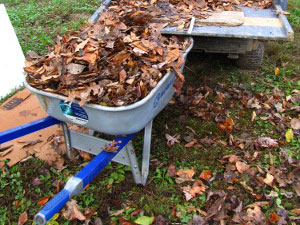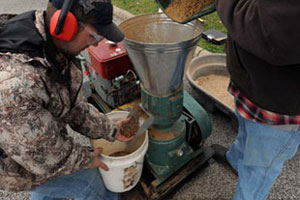 The process of making wood pellets at home
Wood pellets are made from biomass materials through a series of processes. To make wood pellets at home, you need crush the materials into small size with a wood hammer mill, then dry the crushed materials with a dryer machine(optional). After that, you can feed the materials into a flat die wood pellet mill. They will get formed into cylindrical solid pellets. The wood pellets can be used in pellet stove, furnace, cooking range for heating and cooking. They are more economical-friendly than coals, and more efficient that crude biomass. In developed countries, more and more families choose wood pellets as the fuel for heating in winters.
Get In touch Now!
We receive enquiries in English, Español (Spanish), Русский язык (Russian), Français (French) and العربية (Arabic). Our professional team will reply to you within one business day. Please feel free to contact us!