Wood pellets industry and market in Canada
Drives of biomass energy development
Biomass industry insiders point out 3 drives in Canada: environmental pressure, management goals of sustainnable forestry, and price advantages.
Biomass fuels are carbon neutral. Plants absorb CO2 in its growth and emit the same quantity of CO2 in burning, so they doesn't add extra greenhouse gases to the atmosphere. Besides, biomass energy can reduce the use of coal, gas and oil, which is the souce of greenhouse gases.
Sustainable forestry is a common goal of all public lands in Canada. It considers forest health, wildlife habitat and biodiversity in the exploration of forestry resources. From economic prospect, sustainable forestry management aims to utilize all materials in the most efficient way, including wood wast. However, it is not wise to turn all forestry waste into biomass energy. Sometimes it is helpful to leave some wood waste in the forestry to protect wildlife habitats and promote soil nutrients regeneration.
When the price of traditional fuels go down, biomass energy will lose advantages. The price competition makes the manufacturers develop more efficient ways to process biomass energy, especially to lower the cost of raw mateirals transportation. By controling the production cost, biofuels are competitive with traditional fuels. For example, if the price of a barrel of oil is higher than $17, biomass energy is more economical.
Renewable energy incentive policy
The production and consumption of wood pellets in Canada is driven by international demand and domestic policy. Canadian Federal government has drawn a plan to stop using coals by 2030, and increase the ratio of renewable energy in power generation to 90%.
Currently, coal power contributes 10% of the total greenhouse gas emission in Canada. Coal plants are mainly located in Alberta(10), Saskatchewan(2), New Brunswick(1), and Nova Scotia. According to the policy, New Brunswick and Alberta declare to gradually eliminate coals by 2030, and convert several coal-fired power plant into co-fired or biomass power plant.
In residential heating market, the firewood stove replacement project in Nova scotia, Quebec, new Brunswick, British Columbia, and Ontario will boost the domestic wood pellet market. (HPBAC,2016)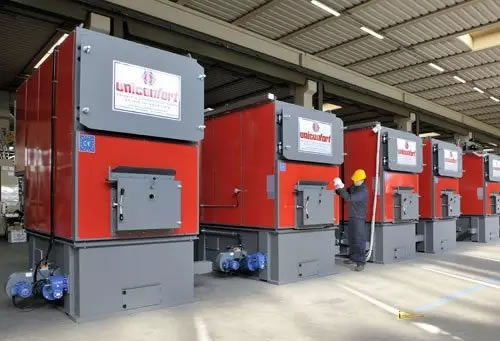 Wood pellet production in Canada
In 2010, Canada can produce 2 million tons of wood pellets every year. The wood pellet factories can produce 1.3Mt, accounting for 65% of the domestic total production, and export 1.2 Mt of them. In 2011, the production reach up to 1.5Mt, with 1.3Mt for export.In 2012, the production capacity has reached up 3Mt. Form 2015-2016, the wood pellet production increases by 1Mt per year. In 2016, Canada has 42 pellet factory, with the production capacity over 4Mt, and new pellet factories are in construction.
British Columbia produces over 150,000 wood pellets every year, accounting for 60% of the total production in Canada. The next are Ontario and Quebec. The wood pellet factories in Ontario mainly serve domestic market, while the wood pellet factories in British Columbia serve overseas large-scale heat power plant. Other provinces have many small pellet factories mainly serving regional market, with the total production capacity around 50,000 tons.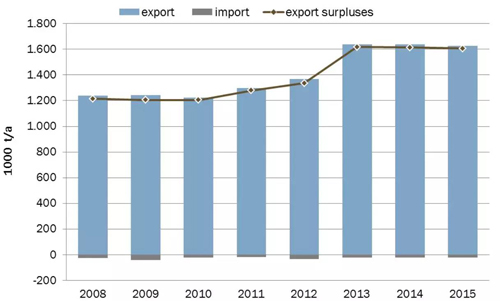 Canada annual wood pellet production growth
Biomass materials in Canada
In Canada, the biomass resources spread in those provinces with reactive pulp, paper and forestry industry, including Ontario, Alberta, Quebec, and New Brunswick. Biomass materials such as barks, sawdust, wood chips, braches are used to make wood pellets, biogas, cellulosic ethanol, biodiesel, and bio-oil.
In the past, many paper mills has a specialized room to produce hog fuel, the mixed barks and wood wastes used to generate heat and power. With more and more paper mills merge with saw mills in the 1990s, the wood wastes are transported to the saw mills. In the last 10 years, with many saw mills close down, the source of wood waste decrease sharply, so forestry become a major source to obtain biomass materials.
Forestry biomass materials can be obtained in different forms. It is popular to collect twigs, branches, needles, barks, etc., which is carried out along with logging, but the transportation cost is high. Besides, biomass comes from silvicultural thinning, right-of-way clearing, sphagnum peat, or the residues after fire, disease and insect pests.
Tamarack and larch become popular in biomass industry. They are not for making woodworks or papers, but suitable for biomass fuel production owing to high growth speed. They are going to be an economical solution to produce sustainable energy.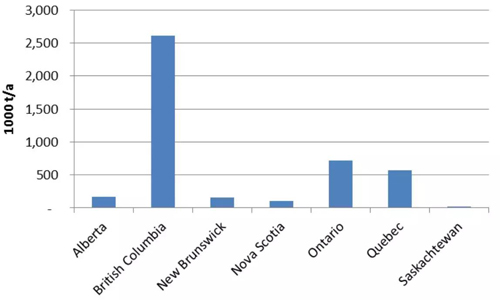 Canada wood pellet production capacity in different provinces
Wood pellets Export market
The wood pellets in Canada are mainly exported to Europe (including England and Belgium) and Asia (including Japan and Korean) and residential heating market in America.Canadian Statistical Bureau reported the export statics of the last 4 years.

Canada wood pellet export statistics
Thanks to position advantages, British Columbia has become the one of the first wood pellet suppliers for Korean and Japan Market. In the past years, Canada's wood pellets export has taken up 2/3 of Japan's wood pellet import. (Strauss 2016)
In 2016, Canada's wood pellet export increases by 46% and reach up to 2.37Mt. Japan contributed the largest growth rate of 240%, and England has the largest growth volume of 458,217 ton.(WPAC,2017)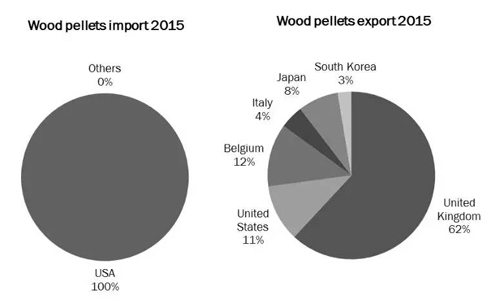 Canada wood pellet import and export in 2015
In the future, most wood pellets in Canada will keep on serving oversea market. Canadian wood pellet manufacturers have to rely on Europe and Asia market. In Asia, Korea is going to be a thriving market, with many independent power producers and industries adopting wood pellets. Japan is likely to have the fastest growth, with more and more coal-fired power plant to be converted. Japanese market is expected to grow by 10-12Mt every year.
Wood pellets domestic consumption
Canada's domestic wood pellet consumption is 300,000 tons every year, mainly for residential heating stove and the biomass power plants.
The domestic residential heating market will remain stable, or enlarge with the growing price of heating oil. The co-firing power plant will increase domestic market. But wood pellet has to compete with other renewable energy such as solar and wind. Besides, wood pellets are acknowledged as expensive, whose benefits such as uniform size, storability, and fluidity haven't get due attention.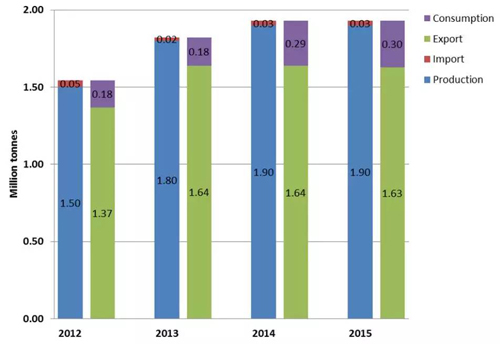 Canada wood pellet production, consumption and trade
Biomass power generation in Canada
Canada National Energy Board recently published a report on the application of renewable energy. It pointes out Canada adopts higher portion of renewable energy in power generation compared with other developed countries.
As the report shows, Canada has 70 biomass power plant in 2014, with the total gross capacity of 2408MW. The biomass includes wood, wood by-products, and landfill gas. In general, biomass takes up 1.9% of the total power generation in Canada. In 2015, the biomass power generation is up to 12,161 GWh, which has grown up by 54% since 2005.
Atikokan is the largest 100% biomass fuel power plant, owned by Ontario Power Generation. This power plant is converted from coal-fired power plant into biomass power plant with 170 million Canadian Dollars in 2012. Since 2014, Atikokan has undertaken the peak demand for electricity. It requires 1000 tons of wood pellets every year, taking up 30% of the domestic productivity.
Sandbey, another power plant in Ontario, is also converted into wood pellet fired. Currently, it consumes about 8000 tons of carbonized wood pellets from Norway.
Wood pellet price
The sales price for bulk export in overseas market is between 150 and 180 Canadian dollars. The pellets targeting at America's residential heating market are sold in bags, which has higher price of 210-280 Canadian dollars(Canada Statistics). The zone price of bagged wood pellets (40 pound) is $5.24, equaling $262/ton, and $15.41/GJ.
According a project in British Columbia, the price of heating wood pellets (including operation and electricity) is $15.9/GJ, dimethylmethane is $24.36/GJ (including delivery, carbon tax and electric fans), electricity is $29.47/GJ, and heating oil is $33.93/GJ.(Murray, 2015)

Canada wood pellet export price
Wood pellets logistics
Canada's wood pellets are exported out of British Columbia through the Vancouver port and Prince Rupert port. Inland, the rails connect the wood pellet factories and ports, and trucks transport forestry materials to the wood pellet factory.
The new trade road from eastern Canada to Europe, and the wood pellet factories in the eastern provinces like Ontario, Quebec and New Brunswick adopts barges for transport.
Get In touch Now!
We receive enquiries in English, Español (Spanish), Русский язык (Russian), Français (French) and العربية (Arabic). Our professional team will reply to you within one business day. Please feel free to contact us!