Sweden biomass pellet fuel industry analysis
Sweden is one of the world's largest wood pellet fuel producer and consumer. It's wood pellet production technology, industry policy, and market model are prominent. In this passage, I will do comprehensive analysis on Sweden biomass pellet fuel industry, and work out some useful experiences.
Introduction
In the 1970s, many countries have made policies to promote biomass energy as a way to cope with energy crisis and environment pollution. Since then, biomass energy industry has developed rapidly, and the technology keep improving.
Due to the lack of mineral resources, Sweden's economy suffered great loss in last century. To ensure national energy security, Sweden government strive to develop renewable energy.
Biomass pellet fuel has the features of high burning efficiency, low ash content, zero carbon emission, easy transportation, which has been popular in Europe and North America. With abundant forestry resources, Sweden pay much attention to the development of biomass pellet fuel. Sweden takes up 20% of the world's biomass fuel consumption, which grows up at the speed of 8-10%.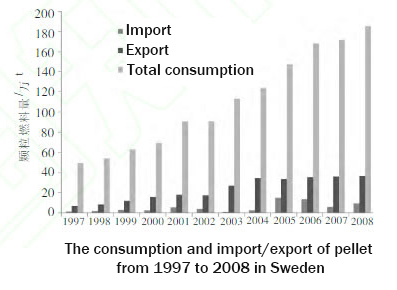 Sweden forestry resources and biomass materials
Sweden has abundant forestry resources. The forest covers 64% of the land area, with 51% owned by individuals, 24% by large wood companies, and 25% by countries and other public organizations. Besides, the forestry grows by 100 million tons annually, and the deforestation amount is 92.4 million tons. The major forestry industries are wood processing, paper processing, and energy wood. The wood materials for making biomass energy mainly come from the 3 industries above, about 23.48 m3.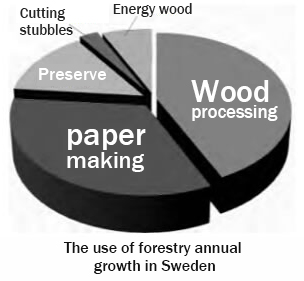 Raw materials of wood pellets
Of the raw materials for making wood pellets, wood shavings take up 53%, sawdust 35%, and wood chips 5%, others (barks, agriculture residues, energy forestry) takes up 7%. Some small wood pellet factory are built base on chipboard, furniture and sawdust mills.
With more companies engaging in biomass fuel production, the competition on the raw materials become more fierce. As the crop straws in Sweden are in scattered distribution, they are hard to collect and process. So some producers and institutes are developing new materials like peat and energy crops.
Wood pellet manufacturing technology and equipment
The pellet molding technology has matured in Sweden. Nowadays, it has achieved commercial and market production. The production process features high automation, requiring less operators. The picture below displayed the wood pellet production process.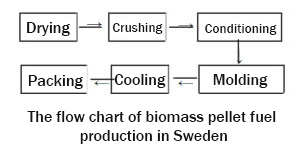 Drying: usually, the moisture content of sawdust is around 50%. A drum dryer can lower the moisture content to 9-12% so that it is qualified for making pellets.
Crushing: the size of raw materials should be under 5mm. They need a hammer mill to reduce the size.
Conditioning: add high-heat steam to the raw materials and soften the cellulous in it. More than half of the pellet fuel manufacturers have conditioning process in production.
Pellet molding: most wood pellet factories use vertical type ring die pellet machine. The production capacity of one machine is 2-4ton/h. The service life of ring die is 2000-3000h, while the roller can last 1000-1500h.
Cooling: the wood pellets extruded out from the pellet machine are at the temperature of 100 ℃. Pellets under this condition are easy to break and inconvenient for transportation. A counter-flow cooler can cool down the wood pellets in a moderate way.
Packing: the cooled pellets need to be classified and packaged according to customers' need. Small bags are 16kg, large bags are 900kg. For large customers like power plant, the wood pellets are transported by trucks and ships in bulks.
Biomass pellets classification and application
In 1999, Sweden government published the standard of wood pellet fuel, in which they are classified into 3 classes. The first class has high quality. They can be used in domestic small burners and stoves.The 2nd and 3rd don't have high quality. They are used by large industrial customers.
Currently, 57% of the wood pellet fuels in Sweden can meet this standard. Some of them can meet the EU standard, others are not produced according to this standard.
Wood pellet fuel can be applied in small boilers, medium-scale and large-scale heating supply center and power plant. Currently, Sweden has 60% of wood pellet fuel for small and medium heating boilers and regional heating supply center, and 40% for large heating supply center and co-firing power plant.
From the 1970s to the 1990s, Sweden regional heating plant adopt coal to replace oil. After the enact of CO2 emission tax, these heating plant turn to biomass fuel from coal. In the last decade, the amount of biomass fuel for heating grows from 1.1PJ to 57PJ. Currently, about 400 regional heating plant has adopted wood pellet fuel.
Since the mid 1990s, domestic wood pellet industry has made great progress. In the last decades, the use of domestic heating wood pellets grows rapidly. Currently, Sweden has 200,000 families using wood pellet boilers, 40,000 families using wood pellet stoves.
Sweden biomass energy development goal and policy
To promote the continuous development of biomass energy, Sweden has made a series of laws and policies. To ensure the implement of these policies, the government also made many feasible supervision measures and mandatory industry standard.
Sweden not only fulfill the obligation stipulated Kyoto Protocol that cut greenhouse emission by 8%, but also set its own development goal of biomass energy. In 2006, the Minister for sustainable development department claimed that Sweden will completely use biofuels and stop using oil, and become the first country that completely rely on renewable energy.
By 2020, Sweden will increase its proportion of renewable energy to 50%, the use ratio of renewable energy in transportation industry to 10%, energy efficiency by 20%, and cut the emission of greenhouse gas by 40%.
Wood pellet fuel incentive policy
Sweden has carried out high price acquisition, investment subsidies, tax reduction and exemption, quota system and other biomass energy incentive policy.
Since 1975, Sweden spends 36 million Euro from government budget to support biomass technology development. From 1997 to 2002, the government provided 25% investment subsidy to biomass cogeneration projects. From 2004-2006, the government provided 1350 Euros for residents who use biomass heating system.
Sweden usually lay high tax on fuels, energies, CO2, SO2, etc. To promote the development of biomass energy, to exempt all taxes on biomass projects. In 1991, Sweden government starts to lay tax on CO2 emission, which makes the price of oil and fossil fuel rise. So many heat supply center and power plants switches from fossil fuel to biomass fuel.
To encourage the power plant to use biomass energy, Sweden government introduced electric power quota system. This policy requires the power suppliers to have certain portion of electricity generated by renewable energy. For every 1MWh electricity, the government will give tax relief based on the biomass power amount.
Sweden wood pellet fuel burning device
Sweden wood pellet burning technology is in the leading position. There have been over 20 pellet burner manufacturers, over 50 types of wood pellet boilers, 120,000 sets of pellet boilers, 20,000 sets of pellet stoves. As there are still many families using electric heating, the pellet boilers have huge potential.
Sweden pellet burning equipment has central heating boiler and biomass stove 2 types.
Central heating boiler can be used in 1 or more families. The thermal transmit with water. The powers are 10-40kw, which can be adjusted by 30%-100% according to needs. The central heating boilers also has 2 types. The combined boiler is connected by a pellet burner and a standard boiler. The boiler can connect with various burners. The integrated boilers are mainly imported from Austria and Germany, some produced by domestic manufacturers.
Biomass stoves or furnace
Biomass stoves also has 2 types. Independent pellet stove and Chimney piece type furnace. The former on is more popular. The independent pellet stove has a pellet stock bin inside, which can hold wood pellets for 2-day use.
Biomass pellet stove can realize automatic filling and burning. Based on different feeding method, pellet stoves has top feed, bottom feed and horizontal feed 3 types. Top feed pellet stoves are the most popular. Owing to high convenience and cleanliness, small pellet stoves sell well in recent years.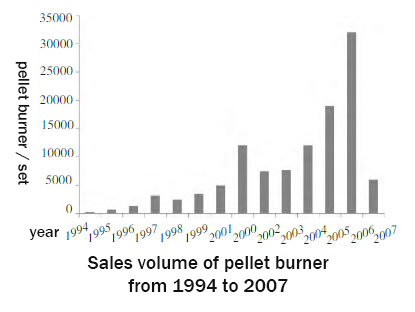 Features of Sweden biomass fuel industry
Sweden has rich forestry resources and abundant forestry waste, which become the main raw materials for biomass pellets.
Sweden wood pellet industry has been fully commercialized. Most manufacturers are large and medium companies, with mature technology. Small wood pellet factories are mostly build on chipboard, furniture and saw mills.
The government has made comprehensive laws and policies to drive the wood pellet production. This is why the wood pellet industry develops rapidly since the 1990s.
Standard for wood pellet fuel keep improving. In the 1990s, Sweden published the standard for wood pellets, and measured the technique date of pellet fuel and burners.
Mature burning technology and equipment. In recent years, Sweden's production of pellet boiler and pellet heating stoves keep increasing.
Perfect quality assurance system. Sweden government stipulated that the wood pellet fuel and burning equipment must obtain third-party testing certifications before entering the market.
Conclusion
Sweden is a major wood pellet fuel producer and consumer in the world. Biomass energy plays an important role in its production and lifestyle. Around the world, biomass pellets are going to play a more important role in heating supply, power generation, and industrial production. If you want to grasp the opportunity and engage in wood pellet production, please learn about our wood pellet plant, or contact us through the form below.
Get In touch Now!
We receive enquiries in English, Español (Spanish), Русский язык (Russian), Français (French) and العربية (Arabic). Our professional team will reply to you within one business day. Please feel free to contact us!